Rate Volatility Is Again Proving Too Much for Stocks to Stomach
(Bloomberg) -- Stock investors have learned to live with a lot during a 10-year bull run. But one thing they've repeatedly struggled to process is stress in the bond market that comes upon them swiftly.
It's playing out again now, in a repeat of dynamics reminiscent of January, before the worst stock selloff since 2016. Equities buckled Thursday, driven down after 10-year Treasury yields rose at the fastest rate in a year. The S&P 500 slid the most since June while futures were little changed as of 8 a.m. in New York Friday.
Nobody's saying anything like February's rout is in the offing now. But in a stock market immune to everything from trade wars to emerging economy implosions, Thursday's lurch was another demonstration that it remains vulnerable to signs of a crack in credit.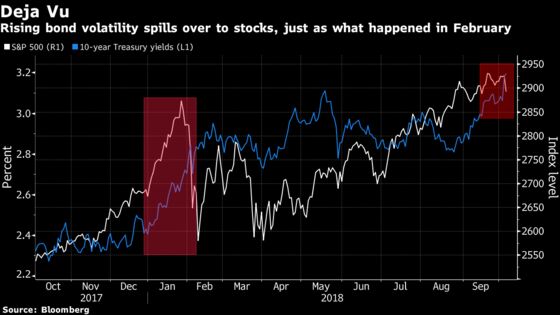 "Leverage is near all-time highs, and companies used tax reform proceeds for buybacks instead of paying down debt," said Max Gokhman, head of asset allocation for Pacific Life Fund Advisors, which manages $40 billion. "More than triple the debt that came due in 2018 will be due each year from '19-'21. If yields go up, there's real concern about companies' ability to reissue and keep their leverage."
While the altitude of yields makes headlines, for the past year it's been the suddenness of moves in Treasuries that have incited the real angst in equities. Going by this, it's not any specific economic signal or higher borrowing cost themselves spooking bulls, but knee-jerk selling spreading from bond portfolios and fear losses will worsen.
Thursday was "probably a reaction to the speed of the rate increase and the uncertainty around how far it will go," said John Bredemus, head of capital markets for Allianz Investment Management. "But generally rates need to go up much higher to have a longer term negative impact on equities."
Big moves in bonds often batter sentiment in stocks. The last five times Bank of America's MOVE Index tracking Treasury volatility has swung 10 percent or more, the S&P 500 fell more than 1 percent on four of them. The average decline was 1.3 percent.
Quick moves in bond yields are something Goldman Sachs has warned about. In a March note, David Kostin, the firm's head of equity strategy, said that while the current level of yields is far from dangerous, the pace of increases is worth watching.
A study by the firm found that over the last 50 years, share prices have tended to decline when yields rise sharply over a month, with a threshold of stress sitting at about 40 basis points earlier this year. That's roughly what happened in the month through Feb. 1, before the selloff that sent the S&P 500 to its first 10 percent correction in two years.
The firm updated its assessment in May and said a one-month surge in rates of roughly 20 basis points or more could spell trouble for stocks.
At the peak of 3.23 percent Thursday, 10-year yields have increased by almost 40 basis points from a month ago, with September marking the first time in five months that the rise crossed the 20-basis point threshold.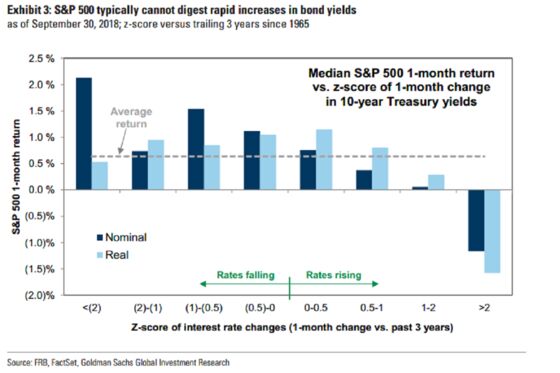 In a note published late Thursday, Kostin's team repeated the view that the speed of yield move matters to equities more than the level.
The stock market's "price action was consistent with the rapid spike in bond yields," they wrote. "We expect rising bond yields will limit S&P 500 P/E multiple expansion, so earnings growth will drive equity returns."