Spanish Economic Growth Exceeds Estimates at Start of 2019
(Bloomberg) -- Spain's economy unexpectedly picked up pace, adding to signs that a slowdown in the euro area may be on the verge of turning.
Spain has consistently outgrown the 19-country region since the start of 2018 and expanded 0.7 percent in the first quarter. A gradual fall in unemployment and higher wages have given a sustained boost to consumer spending, a motor of the Spanish economy, offsetting weaker export demand.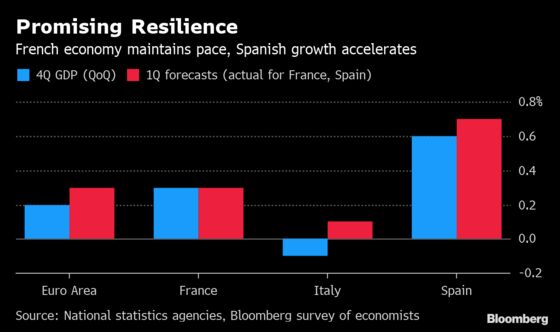 The economy is set to expand 2.2 percent this year, twice the pace of the euro area. Elections on Sunday put Socialist Prime Minister Pedro Sanchez on track for a second term, an outcome that should support growth in the short term.
Bloomberg economist Maeva Cousin predicts a Socialist government is likely to continue to stimulate the economy with fiscal measures. The risk, she says, is that higher taxes or an additional increase in the minimum wage could hurt the country's competitiveness in the longer term.
Sanchez is planning to continue to whittle down Spain's budget deficit and debt pile and boost public spending, probably also raising some taxes.
"I want to send a firm and reassuring message to investors and markets: The economic policies will continue," Manuel de la Rocha, senior economic adviser to Sanchez, told Bloomberg TV on Monday. "Fiscal consolidation, macro-economic stability and reduction of inequalities and very pro-European policies will be the priorities for the next government."