Spanish Bonds Show Little to Fear Before Possible Snap Election
(Bloomberg) -- Spanish bonds have enough going for them to shake off the prospect of fresh elections.
The securities offer some of the highest yields in the euro area, exposure to an economic growth rate above that of neighboring Italy and lower levels of volatility. While a vote could create short-term political instability, the resulting government -- likely drawn from the center-left or center-right -- would pursue fiscal policies well within European Union limits.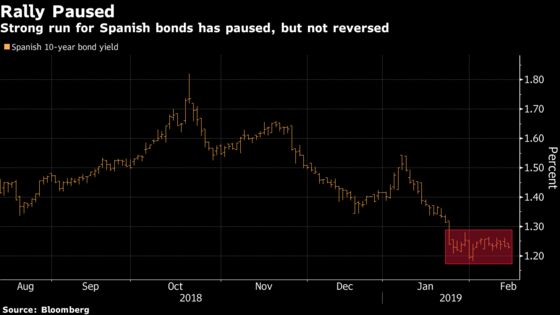 "The majority view in the market is that elections would be a positive for Spanish bonds," said Antoine Bouvet, an interest-rate strategist at Mizuho International Plc. "It is fair to expect some dip-buying to materialize on a knee-jerk widening of Spanish government bond spreads."
The country's 10-year bonds were little changed on Thursday to yield 1.23 percent, with the spread against their German peers also steady. That contrasts to the blowout seen in Italian spreads during political turmoil in Rome last year.
For investors in Japan, 30-year Spanish bonds offer a yield advantage of around 197 basis points over their domestic bonds, when accounting for the cost of foreign-exchange hedging.
The chances of Prime Minister Pedro Sanchez calling a snap election, potentially this week, have risen after Spain's parliament blocked his ruling Socialist party's 2019 budget Wednesday. Both main parties will likely fall short of being able to form a majority, meaning they will have to rely on smaller groupings to form a coalition.
Any Spanish Election-Related Spread Widening Likely to Be Faded
While JPMorgan Chase & Co. recommends buying Portugal's bonds versus Spanish notes to hedge any political risk, Morgan Stanley is still positive on investors holding onto Spain.
"Spain is no longer growing at 3 percent, but growth is not faltering like in other parts of the region," wrote Morgan Stanley strategists Joao Almeida and Robert Brown. "Volatility might rise, but we remain bullish."