Spanish Banks Soar After Mortgage Cases Sent to Local Courts
Spanish bank shares soared after the European Union's top court sent a dispute over whether lenders misled customers about mortgage terms back to national judges.
While the EU's Court of Justice in Luxembourg said banks may have unfairly treated customers who signed up for costlier home loans, it put the onus on local courts to thrash out disputes on a case-by-case basis. Analysts said they're likely to be lenient, allowing banks to avoid the immediate threat of legal liabilities running to billions of euros.
CaixaBank SA, Spain's third-biggest bank, rose as much as 7.8% after the ruling Tuesday, the biggest intraday gain since June 2016. Bankia SA rose as much as 8.1%, the largest intraday jump since September.
At issue in the case is whether lenders misled customers by failing to give them enough information when selling them mortgages tied to the central bank's Loan Reference Index, or IRPH. Spain's Supreme Court in 2017 said the contracts couldn't be abusive since they were tied to an official index.
"It appears to remove much of the tail risk in terms of the big up-front payments or liabilities although there is still some level of uncertainty about how strictly the domestic courts will judge individual cases," Benjie Creelan-Sandford, a banks analyst at Jefferies International in London, said by phone.
CaixaBank is the most exposed lender, with 6.1 billion euros ($6.8 billion) of outstanding mortgages linked to the IRPH, followed by Banco Santander SA and Banco Bilbao Vizcaya Argentaria SA. In an extreme scenario, banks could be forced to repay clients as much as 44 billion euros, according to Goldman Sachs Group Inc.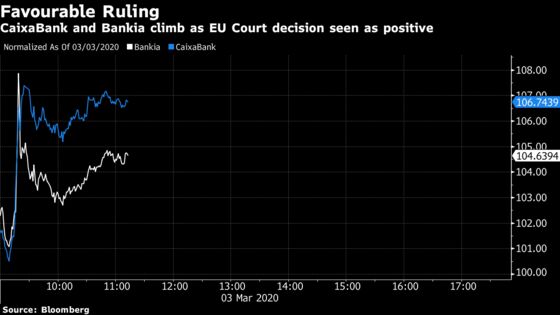 While the dispute was brought by a client of Bankia, the decision will affect how other pending claims will be judged. Some 1 million customers in Spain bought IRPH-linked mortgages, paying an average of 25,000 euros more than those with loans based on the Euribor benchmark, according to an estimate by the Association of Financial Users, or Asufin.
Javier Moyano, head of Bilbao-based law firm Reclama Por Mi, said that in the past four years it's been contacted by more than 3,000 people whose mortgages were tied to the IRPH.
There was little lawyers could do while the issue was pending before Spain's Supreme Court and at the EU court, but that could now change, he said.
"We haven't taken these cases to the courts until now because our complaints wouldn't have been viable," Moyano said by phone. "We tried to reach friendly agreements, which the banks mostly dismissed, but this ruling means now there's quite a high probability of success for legal complaints."
Patricia Suarez, president of Asufin, said the ruling was a victory for mortgage borrowers. "The Supreme Court had totally closed the door for those affected to be able to claim and from now on we will be able to claim," she told Cadena Ser radio.
In Tuesday's ruling, EU judges said their Spanish counterparts would have the power to replace the index with another more favorable one for customers.
"If they find that the term is unfair, they may, in order to protect the consumer from particularly unfavorable consequences liable to arise from the annulment of the loan agreement, replace that index with a supplementary index provided for by the Spanish law," the EU judges said in the decision.
The IRPH is more complicated to calculate than the widely used Euribor benchmark since it also includes fees and credit risk. Marketed as a more stable option when the difference between the two indexes was narrower, IRPH has consistently produced higher rates for customers since it was created in the early 1990s. The gap between the two has widened since 2008, when the European Central Bank began to drive down its benchmark rate.
The case is: C-125/18, Gomez del Moral Guasch.