Gibraltar Dodges Hard Brexit After Spain, U.K. Reach Accord
(Bloomberg) -- Spain and the U.K. struck a last-minute deal over Gibraltar that eases access to the territory and removes the threat of fresh restrictions at the border with the European Union once Britain leaves the bloc on Jan. 1.
A preliminary agreement was reached that would help build "shared prosperity," Spanish Foreign Minister Arancha Gonzalez Laya told reporters on Thursday.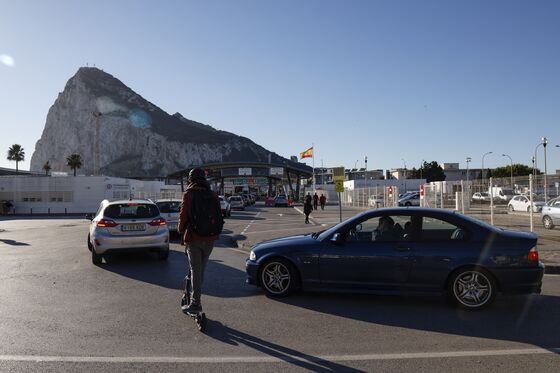 The territory will operate under passport-free Schengen terms, she said, adding that the final agreement is expected to come into force within six months.
"The gate is lifted," Gonzalez Laya said. "It allows for the controls between Spain and Gibraltar to be suppressed."
During a four-year implementation period for the accord, officials from the European border agency Frontex will help with controls at Gibraltar's port and airport, with Spain as the party responsible for overseeing Schengen.
The Brexit trade accord sealed on Dec. 24 didn't include a settlement for the British overseas territory with a population of about 32,000. A failure to reach an agreement threatened more intense passport checks, disrupting the flow of goods and the daily commute of thousands of workers.
"We reached agreement on a political framework to form the basis of a separate treaty between the U.K. and the EU regarding Gibraltar," British Foreign Secretary Dominic Raab said in a statement. "We will now send this to the European Commission, in order to initiate negotiations on the formal treaty."
He said the U.K. "remained steadfast" in its support for Gibraltar and its sovereignty was safeguarded.
Fabian Picardo, the territory's chief minister, said Gibraltarians should "absolutely not be concerned" that the deal could pave the way for Spanish Civil Guard police to eventually carry out border checks.
The deal marks a new chapter in the sometimes strained relationship between Spain and the U.K. over the tiny strategic enclave at the entrance to the Mediterranean. Many inhabitants of the territory, which has been under British control since 1713, vividly remember a 13-year blockade enforced by Spanish dictator Francisco Franco that only ended in 1982.
Joint membership of the EU helped take the sting out of the dispute and allowed the territory to thrive on tourism, financial services and online gaming. The roughly 15,000 people who cross the border every day for work includes many Spaniards from a surrounding area with a history of chronic unemployment.
"Almost at the last minute, the negotiation is successfully completed, and the clock has stopped ticking," Picardo said in a news conference. "This is serious politics, this is about the future of our children, the strength and growth of our nation."