Spain's Government Must Do More Now or Face a Debt Spiral
(Bloomberg) -- A Spanish recession is unavoidable -- Bloomberg Economics predicts the economy contracted by 5% in the first quarter and will shrink another 7% in the second. The risk is that the government's reluctance to spend more on saving jobs and keeping companies afloat delays the recovery and magnifies the fiscal costs, according to BE.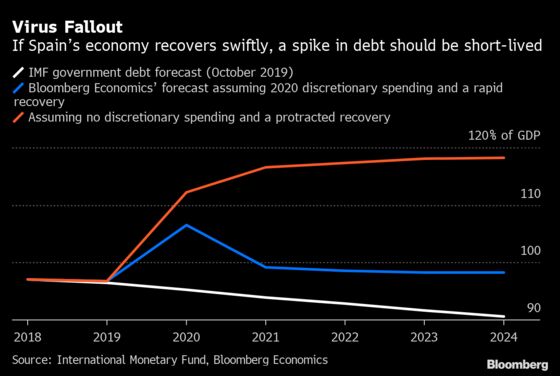 BE's central forecast is based on the assumption that the government will increase discretionary spending to ensure that fiscal support is large enough to fully compensate for the income lost through the first half of the year. While this will be costly -- BE sees debt reaching 106.5% in 2020 -- if the economy recovers swiftly, the spike in debt-to-GDP should be short-lived.
A more protracted recovery would prove a lot more expensive for the public finances: After 2013, it took six years for Spain's economy to regain its full potential. If the recovery is as sluggish this time round, debt will reach around 120% of GDP.