Spain's Economy Slumps 5.2% as Coronavirus Measures Shut Businesses
Spain's economy shrank 5.2% in the first quarter, bringing to an abrupt halt six years of robust growth that had pulled the country out of the last major crisis.
That contraction was deeper than the 4.3% drop that economists surveyed by Bloomberg had forecast. Earlier on Thursday, France reported a 5.8% decline in output in the first three months of the year, the most since records began in 1949. An estimate for the euro area due later on Thursday is expected to be similarly downbeat.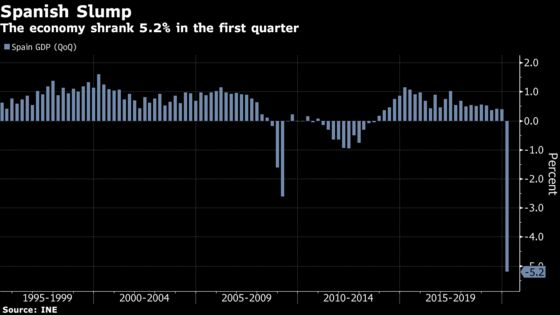 Spain's data is a harbinger of bleaker numbers, with a double-digit slump forecast for the current quarter. The government ordered one of Europe's strictest confinements starting in mid-March, which means that first-quarter data only takes into account around 15 days of the economic freeze. Spain's statistics agency INE said on Thursday that the difficulty of measuring economic output during the confinement means that future revisions on first-quarter data are likely be "of a greater magnitude than usual."
The 5.2% contraction in the first quarter is the biggest decline since at least 1970, when the official data series began.
The Bank of Spain's worst-case-scenario is a 12.4% contraction this year, though it expects that to be followed by a rebound of as much as 8.5% in 2021.
Before the pandemic, Spain had notched years of strong economic expansion. But problems remained, including high unemployment and a large debt pile. That was even before Madrid was forced to pledge billions of euros to shore up the pandemic-stricken economy.
Prime Minister Pedro Sanchez said this week that confinement measures will gradually be lifted through May and June, depending on how the virus continues to spread and the number of fatalities. Spain has the second-highest number of cases globally after the U.S. and more than 24,000 people have died.

SPAIN INSIGHT: Sanchez Calls for Aid as Economy Faces Cliff Edge
Sanchez said the government is aiming for the country to return to a "new normal" in the beginning of July, at which point people would be able to go back to their daily lives for the most part, while still adhering to social-distancing restrictions.