Spain's Calvino Says Election Uncertainty Won't Hurt Economy
(Bloomberg) -- Spanish Economy Minister Nadia Calvino said the country will continue to grow faster than the euro-area average and that elections in two months won't have a meaningful effect on growth.
Calvino and the rest of Spain's Socialist government are gearing up for early elections on April 28, triggered after lawmakers rejected Prime Minister Pedro Sanchez's 2019 budget.
In a Bloomberg Television interview on Tuesday, she noted the government's forecast of 2.2 percent expansion this year, down from 2.5 percent in 2018. "I don't think that's going to be significantly affected by the fact that we will have elections," she told Guy Johnson in Madrid.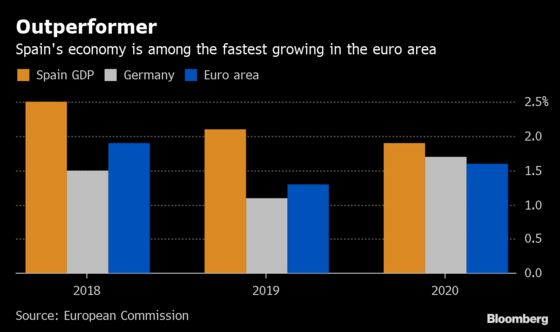 The snap vote has heightened political uncertainty in Spain, but investors appear to be relatively unfazed by the lack of clarity about who will be the next Spanish prime minister. The 10-year Spanish yield spread to Germany has narrowed since Sanchez called early elections in mid-February.
Calvino said Spain is benefiting from improvements to political, financial stability. "We are having very good results in financial markets and we will continue on that trend until the elections and beyond," she said.
The minister later told a Bloomberg conference that a sale of bonds on Tuesday was oversubscribed. It marks the second time Spain has tapped the primary market in about a month.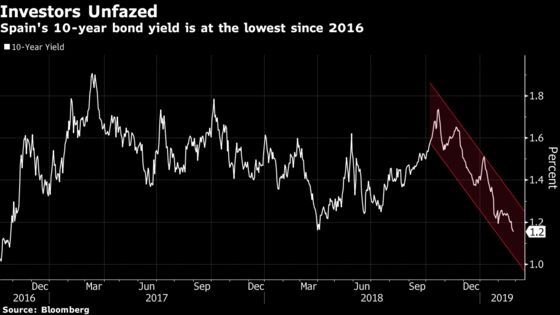 Investors are also assuaged by the Spanish economy, which remains one of the best performing in the 19-nation euro region. Germany is forecast to expand by about 1.1 percent this year, with the euro area at 1.3 percent, according to the European Commission.
Calvino is set to give a keynote speech at Bloomberg Capital Markets Forum in Madrid later Tuesday morning.