Spain's Business Leaders Fear Second Lockdown as Virus Surges
(Bloomberg) -- The number of Covid-19 infections in Spain continued to rise, prompting warnings from business leaders about the cost to the economy if new lockdown measures have to be imposed.
New cases jumped by 2,987 on Friday compared with 2,935 in the previous 24-hour period, the health ministry said late Thursday. It was the highest tally since at least May 25 when the government changed its methodology for reporting data.
CEOE, Spain's main business lobby, on Thursday warned that any second lockdown would have catastrophic consequences and urged the government to promote the use of a new app developed by the Economy Ministry to trace cases of Covid-19. On Friday, the government announced a series of measures including curbs on smoking, bars and closing nightclubs to contain the spread of the virus.
"The Spanish economy is in a situation where it can't handle an outbreak similar to the one in March that would mean a new lockdown with the subsequent paralysis of activity," the chamber said in the statement.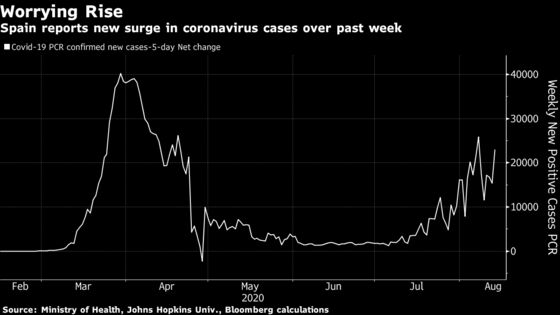 Fernando Simon, the head of Spain's medical emergency response center, said on Thursday that, while the government will do what's needed to rein in the virus, he had no knowledge of any plans for further lockdown orders.
Spain applied one of the strictest restrictions on mobility in Europe when the virus first arrived in March. Its impact was reflected in data that showed economy shrank by 18.5% in the second quarter, the deepest contraction by a European Union country.
The government has blamed much of the recent spread on young people's summer parties. On Friday it announced the closure of all nightclubs and asked local authorities to enforce a law that prohibits drinking in the streets. It also banned smoking if people can't maintain a two-meter distance from others. Bars will now close at 1 a.m. while table sizes will be restricted to a maximum of 10 people, Health Minister Salvador Illa said in a press conference.
Last month, the U.K. imposed a two-week quarantine on travelers from Spain, hitting tourism, a key sector of the economy, at the height of its busiest season.
Still, while cases are rising, the number of deaths are far from the peak levels seen in early April, when more than 900 people a day were dying from the virus. The government reported 62 deaths in the past week, down from 70 on Thursday.
"What we're seeing now isn't the same as what we experienced in March and April," Illa said. "They're younger people, lighter cases, lots of cases with people who show no symptoms. This doesn't mean we don't have to worry or take the measures we're taking."