Spain Economy Outperforms Europe With Surprise Acceleration
Spain's economy finished the year with an unexpected acceleration that will reinforce its position as one of Europe's outperformers.
Growth picked up to 0.5% in the fourth quarter, a slight pickup from the previous three months and above the 0.4% median forecast of economists. Services showed strength and exports rose in the period, according to the report from the statistics office, INE.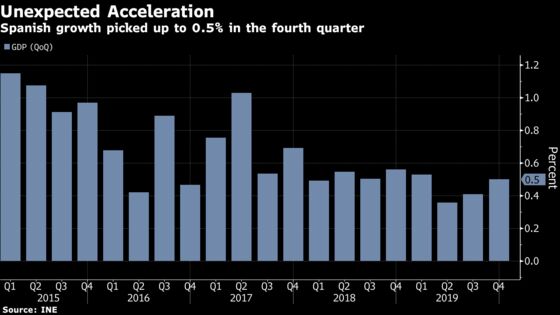 The figures are in sharp contrast to France, where an inventory drag led to a shock 0.1% contraction in the fourth quarter. Growth in the euro area is forecast to have slowed to 0.2%.
Despite the surprise acceleration in the fourth quarter, overall economic growth in Spain has been on the wane. The gradual slowdown has come after several years of robust, post-crisis expansion. Spain's economy expanded by 2% in 2019, the data on Friday show, the slowest pace since 2014.
Spain starts the new year with a new left-wing, coalition government. The appointment earlier this month of Socialist Party leader Pedro Sanchez as prime minister, and anti-establishment Podemos head Pablo Iglesias as his deputy, has lifted the shadow of political uncertainty over the country.
But the new administration also comes with its own set of uncertainties about its economic policies. It's the first coalition government in recent Spanish history, and it's also unclear what the minority government will be able to implement.

So far, it's raised the national minimum wage by 6%, the second hike in two years. Economists say there's initial evidence that last year's hike somewhat slowed job growth in 2019 and that the additional boost could prove to be a further drag.
Government officials say they want to continue to increase the minimum wage each year in an attempt to get salaries in step with more than half a decade of broader economic growth. Economists warn that increases shouldn't outpace growth in productivity, which is comparatively low in Spain.

"An ever increasing pool of workers has fueled the economy's growth," said Bloomberg Intelligence economist Maeva Cousin. "But this model can't be maintained and Spain is facing a difficult shift to a more sustainable source of expansion: productivity."