Spain Leads European Sovereigns With First Bond Sale of 2019
(Bloomberg) -- Spain kicks off European bond sales this year with an auction Thursday, coming as the region's debt rallies on fears of an economic slowdown.
The nation will sell up to five billion euros ($5.7 billion) of three-, five- and 10-year notes, and up to 750 million euros of 15-year inflation linked bonds, more than average sales last year.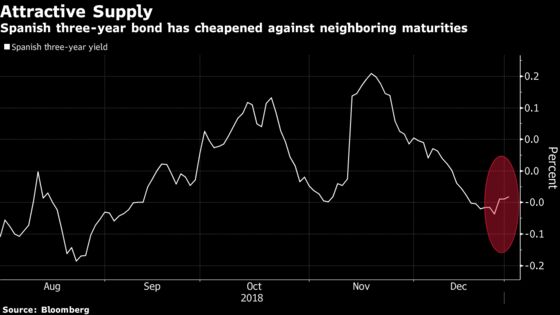 The yield on Spain's 10-year bonds slid 15 basis points in 2018, as the debt benefited from investors avoiding Italian debt and continued European Central Bank asset purchases. Yields dropped on Wednesday as European bonds climbed on weak manufacturing data, with Spain's purchasing managers index missing expectations.
The nation's three-year bonds have become cheaper against the securities of peers, while the opposite is the case for five-year debt, and 10-year notes trade relatively at a fair level, according to Jaime Costero, a strategist at Banco Bilbao Vizcaya Argentaria SA. The sale may be hampered by a lack of liquidity due to a shortened trading week, he said.
Spain's ruling socialist party failed to pass its 2019 budget last week, despite winning parliamentary approval on Dec. 20. Prime Minister Pedro Sanchez is due to present it this month to parliament.