Spain Says High Salaries for Bankers Are 'Unacceptable'
(Bloomberg) -- Spain's government is concerned by the high salaries and other payments made to the country's banking executives, Economy Minister Nadia Calvino said.
"The high salaries and bonuses are unacceptable," Calvino told reporters outside parliament in Madrid on Wednesday. "It's a concern we've shared with lenders and with the Bank of Spain," she said, adding that the pay packages are not appropriate given the current economic situation and with some lenders announcing major staff cuts.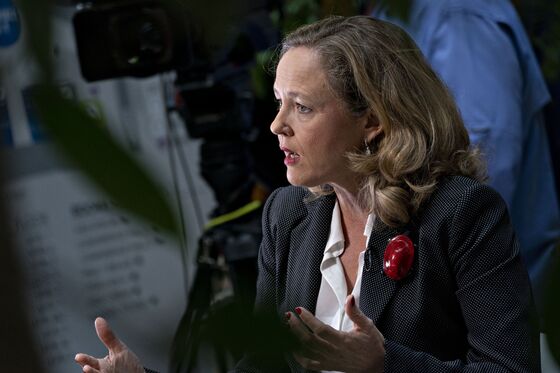 CaixaBank SA earlier this week began talks with unions on cutting 8,291 jobs and shuttering more than 1,500 branches -- about 17% of its workforce -- as part of a cost-cutting plan following its takeover of smaller rival Bankia SA.
CaixaBank is the largest domestic lender in Spain, and the government owns about 16% because it was Bankia's largest shareholder.
Calvino also said Madrid will aim to minimize the impact on employment from the job losses in the banking industry.
Spanish banks are facing margin pressure as low interest rates affect their main business of lending, combined with the economic contraction caused by the coronavirus pandemic.
Larger lender Banco Bilbao Vizcaya Argentaria SA is also slashing jobs as it starts negotiations with unions on Thursday. It could announce 3,500 job cuts, according to newspaper Expansion. The bank sold its U.S. business earlier this year and Chairman Carlos Torres said this week the reductions are needed to guarantee the lender's viability.
Spokespeople for CaixaBannk, BBVA and Banco Santander SA all declined to comment.
Spain had one of the European Union's highest unemployment rates even before the pandemic struck, and the government has paid a portion of the salaries of hundreds of thousands of furloughed workers.