Caribbean Storm Threatens U.S. Soybean Harvests, Lifting Prices
(Bloomberg) -- Prices for some soybean contracts are rising as storms in the Caribbean Sea threaten to disrupt the early U.S. harvest.
Grains and oilseeds have been generally getting cheaper due to better crop prospects. But because of the storm, the nearby September contract traded in Chicago is gaining sharply against November futures, the contract that's currently the most traded, in a move known as bull spreading.
The tropical storm is moving toward the Gulf of Mexico, and Mississippi River Delta soybeans are typically among the first to hit the U.S. market. In Louisiana, the soy harvest has already begun and was 2% complete as of Sunday, the U.S. Department of Agriculture said earlier this week.
The severe weather could "temporarily slow harvesting and shipments," Terry Reilly, senior commodity analyst at Futures International LLC in Chicago, said in an email.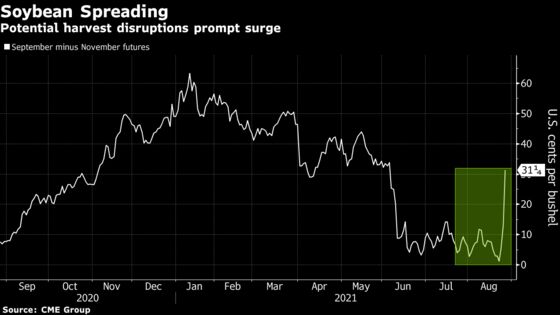 November soybeans fell as much as 1.1% to $13.18 a bushel, while the September contract was up as much as 1.2% to $13.6275.
Outside the U.S., the Parana River in Argentina continues to dry up, hurting grain shipments, and the industry there is worried about the impact of a new government agency that's supposed to oversee the problem.
There are concerns the new agency could result in bigger freight costs and "the extra level of bureaucracy could slow export paces and ultimately, revenues," said Jacqueline Holland, an analyst at Farm Futures.
In other crop markets, wheat rebounded from a three-week low in Chicago amid scaled back harvest expectations. Corn fell.
Wheat and barley crops in Canada, Russia and the U.S. are expected to be smaller than previously forecast, the International Grains Council said Thursday. Global grain stockpiles in the 2021-22 season are now estimated at 589 million tons, which would be the lowest in seven years.
U.S. corn, soybean and wheat export sales all fell last week, according to data released Thursday by the U.S. Department of Agriculture. 
Wheat rose as much as 2% to $7.3975 a bushel in Chicago, after touching the lowest since Aug. 5 on Wednesday.