Southwest Says It's 'Hopeful' Cash Burn Will Stop in June
(Bloomberg) -- Southwest Airlines Co. expects to stop burning cash by June and is adding summer flights almost to 2019 levels as increasing vaccination rates spur trips by vacation-hungry Americans.
For the second quarter as a whole, average core cash burn will fall to a range of $2 million to $4 million a day, down from $13 million in the first three months of the year, Southwest said in a statement Thursday as it reported first-quarter financial results. Gains from increased bookings briefly turned cash flow positive in March.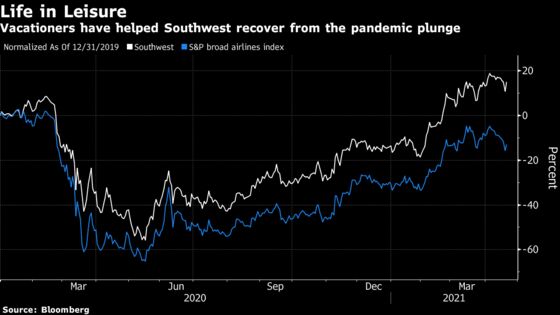 Southwest's outlook points to a payoff from the airline's push to reach new customers by adding 17 airports to its network and nearly 100 new routes since the start of 2020, even as it pared total capacity. The carrier's domestic focus also has shielded it from the near-collapse in flying to many international markets, and Southwest said it plans to continue aggressive expansion.
"While the pandemic is not over, we believe the worst is behind us in terms of the severity of the negative impact on travel demand," Chief Executive Officer Gary Kelly said in the statement. "We are experiencing steady weekly improvements in domestic leisure bookings, which began in mid-February 2021."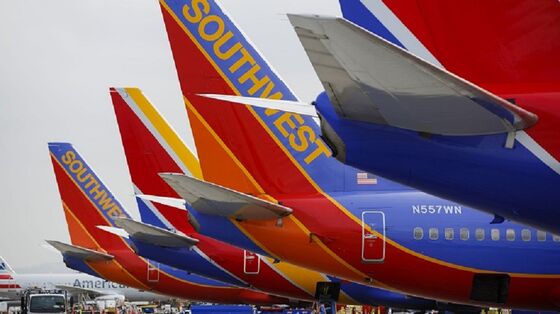 The shares pared an early gain of as much as 2.7% to trade up 0.5% at $62.37 as of 10:31 a.m. in New York. Southwest had advanced 33% this year through Wednesday, a hair behind American Airlines Group Inc. as the biggest gainer on a Standard & Poor's index of the five largest U.S. carriers.
Southwest reported a first-quarter adjusted loss of $1.72 a share, compared with the average $1.85 deficit of analyst estimates compiled by Bloomberg. Revenue fell 52% to $2.05 billion. Analysts had expected $2.06 billion.
Bookings by leisure travelers and fares are expected to continue improving this month and next from March levels, with consumers buying further ahead of their planned trips.
The lag in corporate travel "is expected to have a significant negative impact on close-in demand and average passenger fares," the company said. The carrier expects its planes to be as much as 80% full in April and May.
While Delta last week maintained its outlook for break-even cash flow in the second quarter and a return to profit in the third, United Airlines Holdings Inc. only outlined the strength of recovery needed to stem losses -- and declined to venture a guess when that would happen. Both carriers lost more in the first quarter than analysts had expected.