Southeast Asian Firms More Upbeat Than Most on Trade Outlook
(Bloomberg) -- Southeast Asia is feeling a whole lot better than the rest of the business world about the global trading environment.
Some 86 percent of firms across five economies in the region judged the global trade outlook as "very positive" or "fairly positive," with Thailand at 92 percent, according to a poll released Monday and conducted by Kantar TNS on behalf of HSBC Holdings Plc. The global average trailed at 78 percent.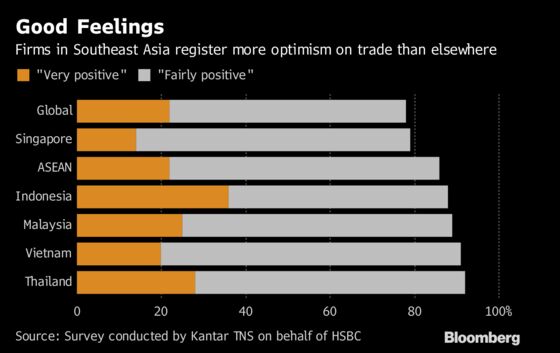 The report is the latest bit of evidence that companies remain upbeat about the prospects in Southeast Asia as economic fundamentals remain solid and as U.S. tariffs on Chinese goods make plans to source orders and production from the region more attractive.
The HSBC-led survey was conducted over a six-week period from July to September, before purchasing managers indexes across key exporters in the region started declining because of rising trade tensions. Responses came from 8,650 businesses, including 1,000 firms equally represented from Indonesia, Malaysia, Thailand, Vietnam and Singapore, according to HSBC.