Korea's Export Plunge Sends Chilling Warning on Global Trade
(Bloomberg) -- South Korea's exports fell in April by the most since the global financial crisis, offering an early indication of how the coronavirus pandemic is slamming world trade.
The value of overseas shipments dropped 24% from a year earlier, the trade ministry said Friday, led by sharp falls in exports of ship, cars and auto parts, semiconductors and oil products. The export slide was the biggest since May 2009 and contributed to the first trade deficit since January 2012.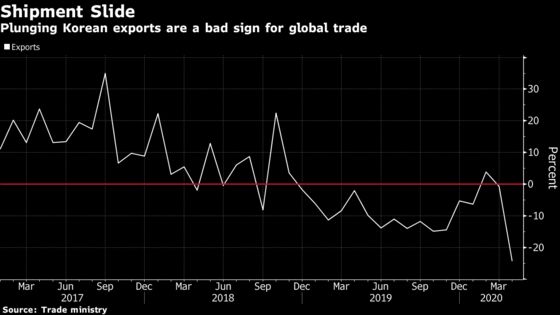 South Korea's export numbers, one of the first full-month data sets on trade, paint a grim picture of world commerce amid widespread lockdowns. The figures also point to the limitations of extra spending and by President Moon Jae-in's administration to shield the economy from the pandemic's global hit.
Rising unemployment and corporate bankruptcies in major economies are likely to further weigh on global demand in the coming quarters, leaving South Korea's automobile and electronics sectors vulnerable, said DBS Bank economist Tieying Ma. DBS sees Korea's exports continuing to fall at a double-digit pace through the second and third quarters.
The April data showed shipments to China, the U.S. and other major trading partners falling across the board, with auto part, ship and oil product exports dropping by half or more.
South Korea Approves 12.2Tln Won Extra Budget to Fund Handouts
The figures come a day after Korea's parliament passed a second extra budget that offers cash handouts to all households. South Korea is already planning a third supplementary budget to fund what President Moon calls a "Korean-style New Deal" to create jobs and boost growth once the virus is brought under control.
Samsung Electronics Co., the world's largest maker of memory chips, mobile phone and consumer appliances, is among the companies to issue profit warnings and withdraw forecasts as global demand for key Korean products such as smartphones craters.
The government has tried to support exporters in survival mode by helping with financing and credit measures, but it can't fully offset the external shock to the economy, said Angela Hsieh, economist at Barclays Bank PLC.
"That's why I think focusing on domestic demand to help households and to support the job market will be more direct and effective for the government at this stage," she said. It also remains unclear whether the latest export data reflects a supply-side distortion resulting from lockdowns or a wider-reaching destruction of demand, she added.
South Korea has managed to contain the virus without a full-fledged lockdown due to its aggressive testing and tracing efforts. It pioneered drive-in centers and phone stalls for testing. While the approach may have softened the economic hit in the short-term, a global recession, a possible second-wave of infections and a rise in joblessness could lead to longer-term damage.
What Bloomberg's Economist Says

"The cliff-drop in South Korea's exports turned out to be even sharper than expected in April -- testament to the debilitating blow to global trade from lockdowns around the world...We don't expect much letup for at least a few more months, and even then, headwinds to exports are likely to remain strong."

--Justin Jimenez, economist

Click here to read more.
Year-on-year exports of ships dropped 60.9%, oil products by 56.8%, car parts by 49.6%, smartphones by 43.6% and semiconductors by 14.9%. Coronavirus test kit exports increased about eightfold from the previous month.
Daily average exports fell 17.4% from a year earlier.
Imports slid 15.9% from a year earlier, compared with a 14% drop forecast by economists. The trade balance swung to a deficit of $946 million.