Korea's Consumer Confidence Plummets on Coronavirus Fears
(Bloomberg) -- South Korea's consumer confidence plunged the most in five years as coronavirus spreads quickly in the country, blunting the momentum toward economic recovery.
The index slid 7.3 points in February to 96.9, dropping below 100 -- which serves as a yardstick for positive or negative sentiment -- according to the Bank of Korea. The fall is the largest since June 2015, when another type of coronavirus -- Middle East Respiratory Syndrome -- hit the Korean economy.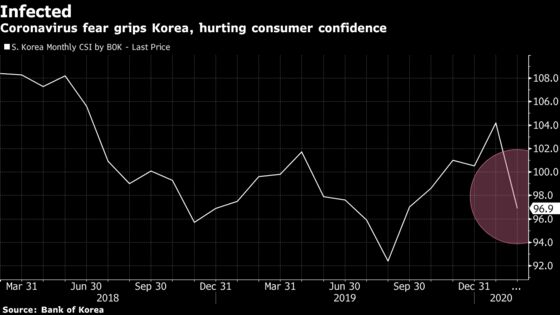 The number of coronavirus cases in South Korea soared over the past week, rising from just dozens to more than 800, making it the most-infected country outside China. President Moon Jae-in has raised the infectious-disease alert to the highest level for the first time since 2009.
The central bank blamed the virus for February's consumer confidence reading, the lowest since last August. The data came days before the BOK board convenes Thursday for an interest-rate decision, giving it one more reason to ease policy, as many analysts expect it to do.
The monthly sentiment index had gradually moved higher from the middle of last year through January, alongside other indicators that offered evidence of a looming economic recovery. The outbreak of coronavirus, which began in China and has since spread to South Korea, is damping optimism, with economists slashing growth projections for both countries.
Within the release, sub-indexes measuring consumers' assessment of the current economic situation and their outlook slid the most, falling 12 and 11 points respectively.
Trade with China, South Korea's biggest trading partner, is already showing signs of strain. Exports to and imports from China both fell in the first 20 days of February, despite three more working days compared to last year. South Korea's benchmark stock index slid 3.9% Monday.