South Korea's Moon Axes Finance and Policy Chiefs in Reshuffle
(Bloomberg) -- South Korean President Moon Jae-in took action to stem a backlash over his income-led growth policy by axing two conflicting voices within his administration amid a slowdown in growth in Asia's fourth-largest economy.
Moon designated former finance ministry spokesman Hong Nam-ki as his new finance chief and deputy prime minister to replace Kim Dong-yeon. He also called on senior secretary Kim Soo-hyun to be his chief of staff for policy, replacing Jang Ha-sung.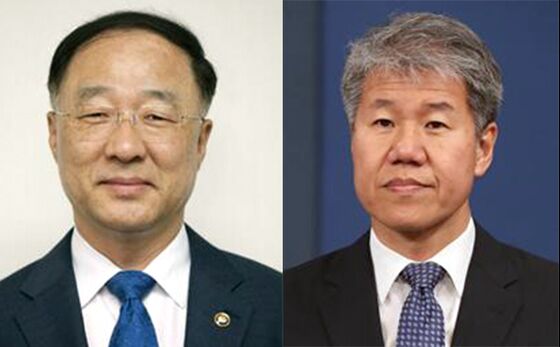 With the appointments, announced by the presidential Blue House on Friday, Moon may end some of the publicly expressed doubts by administration officials over his strategy to drive growth and reduce income inequality through hefty hikes of the minimum wage.
"The Blue House had no choice but to accept the public's demands that the two be replaced," said Park Sang-in, professor of public administration at
Seoul National University, flagging a lack of trust in the officials among some investors.
The appointments come after a deceleration in economic growth that may be giving policy makers second thoughts about the prospects of near-term rise in interest rates. Slower growth is also adding to pressure on Moon amid criticism that his moves to bump up the minimum wage are hurting employment.
The economy grew just 2 percent year on year in the July-September quarter, its slowest pace of expansion since 2009. The slower-than-expected growth makes a 2.9 percent government target for 2018 more difficult to achieve. Moon's administration had already trimmed its growth projection for the year and a target for job creation.
Hong will assume the leading role in Moon's cabinet as it struggles to tackle challenges including youth unemployment, high levels of household debt and the potential fallout of the U.S.-China trade war on Korea's export-dependent economy.
Hong, who holds a master's degree in economics from University of Salford, Manchester, has long served in public posts, including director-general at the finance ministry and senior secretary to the president for policy coordination, the presidential office said.
He takes over from Kim who took on the position of finance minister in June 2017 shortly after Moon came to power with a pledge to create jobs and raise income levels for regular workers. While Kim's term was not unusually short, with one to two years being the norm for this role in South Korea, he had contradicted the presidential office on the impact of wage policies.
Kim Soo-hyun's lack of background suggests Moon is looking for a softer bureaucrat-led approach to policy and not a dramatic reversal, Seoul National University's Park added.
He replaces Jang who had been under growing pressure to resign as Moon's key economic initiatives generated discontent as employment creation was hit and youth employment rates remained stubbornly low.
"The economy is in a bad shape and the presidential office needed somebody to pay the price," said Oh Suk-tae, an economist for SG Securities.
The growing unpopularity of the incomes-led growth policy among voters is also weighing on Moon's other campaign pledges such as reform of Korea's chaebol conglomerates.