South Korea's Early December Trade Points to Softening Demand
(Bloomberg) -- South Korea's trade data for early December add to evidence that the U.S.-China trade war and softening economic growth are taking a toll on global demand.
Growth in both exports and imports slowed sharply during the first 20 days of December, preliminary data showed, with shipments to China, South Korea's largest trading partner, falling 14 percent, a second-straight monthly drop. Semiconductor exports fell 9.8 percent.
Overall exports rose 1 percent, the slowest rate since a decline in June. Imports rose 2.2 percent, the lowest in two years.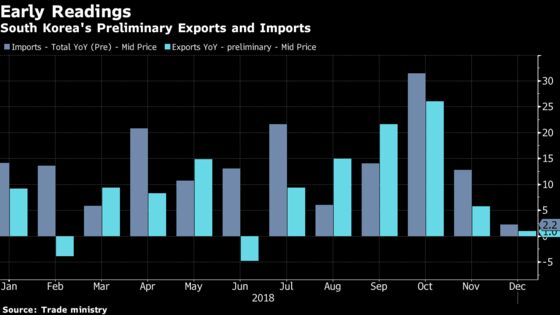 South Korea is a key link in global supply chains, particularly for technology, making it a bellwether for global trade. Trade battles, the possibility of a disruptive Brexit and slowing global growth are casting a shadow on the outlook for 2019.
The drop in shipments of semiconductors, a main driver of Korean growth, underscores the challenge of sustaining growth for President Moon Jae-in. South Korea expects economic growth this year and next year to be the slowest since 2012.