South African Retail Sales Rise 21st Straight Month in November
(Bloomberg) -- South African retail sales rose for a 21st consecutive month in November, potentially boosting an economy that emerged from a recession in the third quarter.
Sales increased 3.1 percent from a year earlier, compared with a revised 2.1 percent expansion the previous month, the Pretoria-based statistics office said Wednesday in a report on its website. Sales were 3.3 percent higher in the month.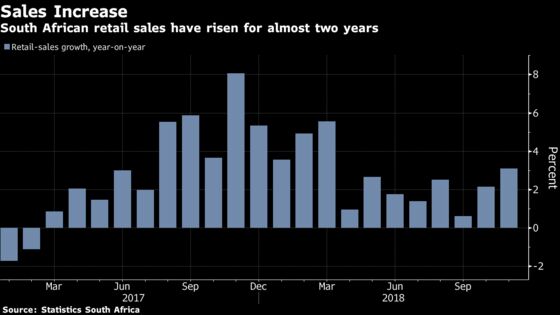 Growth in retail sales could help boost the economy's recovery in the fourth quarter after factory output also expanded in October and November.
Sales increased 2.3 percent in the three months through November from the previous three months.
November included the annual "Black Friday" sales. The category that expanded most was household furniture, appliances and equipment, which was 13.5 percent higher than a year earlier.