South African Businesses' Pain From Coronavirus Lockdown in Charts
South Africa's economy has effectively been shut for almost four weeks by a national lockdown to curb the spread of the coronavirus and the impact on businesses and their workers is dire.
The Reserve Bank projected the initial three-week lockdown could cost 370,000 formal-sector jobs and cause 1,600 businesses to close. But after the restrictions were extended by another 14 days, Governor Lesetja Kganyago said it's a nightmare for forecasters and any numbers projecting job losses are "most likely going to be a thumb-suck."
These charts show some of the findings of a survey done by Statistics South Africa during the first two weeks of the lockdown. More than 700 companies responded.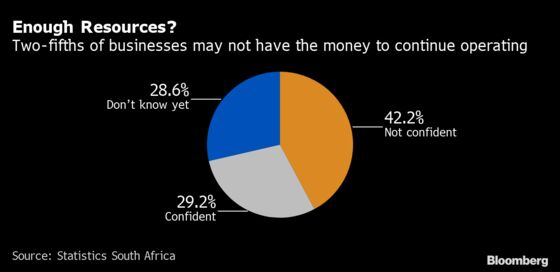 More than 40% of the respondents said they're not confident that they have the financial resources to operate throughout the pandemic. The majority said their turnover is below the normal average and almost half indicated temporary closure or paused trading activity.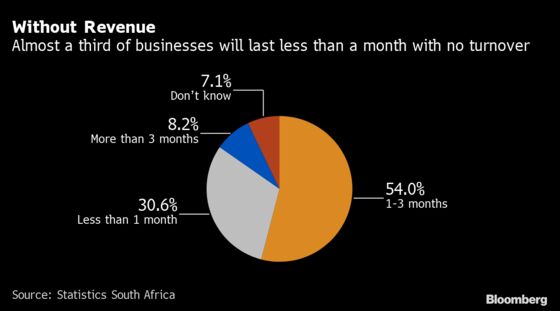 With only businesses who've been able to obtain essential-service permits allowed to operate as normal, hundreds of companies from restaurants to beauty salons to builders haven't been able trade since March 27. More than half of the respondents said their company won't survive longer than three months without any sales.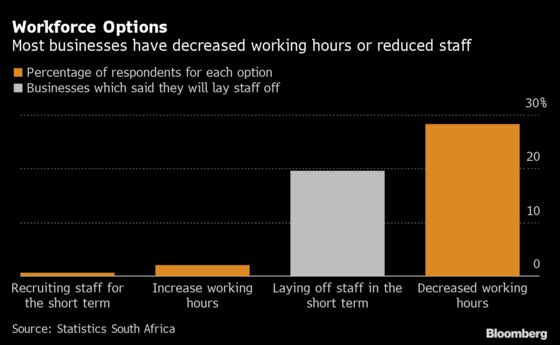 With little work coming in, businesses had to look for ways to cut or manage expenses and often that meant changes to staff or their salaries. Remote work isn't a feasible option for many businesses and less than half of respondents said their workforce could meet the firm's demands. Almost 30% reduced staff working hours and 20% said they're laying people off in the short term.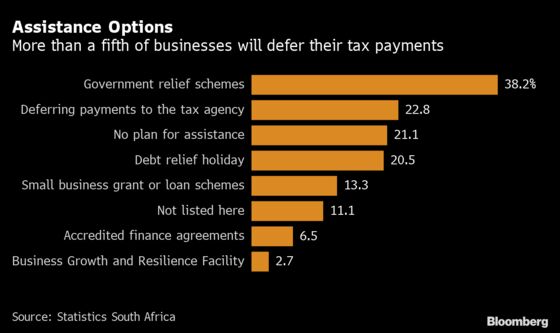 The government has made assistance options -- from relief funding to tax measures to support for employees -- available to try help companies survive the lockdown. Business leaders have also followed President Cyril Ramaphosa and his cabinet in donating about a third of their pay for the next three months to a government fund to fight the virus.
But demand for help has outstripped the money available. A 1 billion-rand ($53 million) support fund established by the Rupert family, the nation's third-richest, received more than 10,000 applications within three days of opening.