South African Bonds Catch a Break as Tide Turns in Their Favor
(Bloomberg) -- It's been a miserable quarter so far for South African bonds, but the worst may be over.
After a selloff that started in April and wiped out this year's gains, yields on benchmark securities fell on Tuesday as Finance Minister Nhlanhla Nene delivered good news on the country's fiscal deficit. Rates may fall further, provided global factors that roiled emerging markets in recent weeks don't worsen, according to Standard Bank Group Ltd.
Read More: South Africa's Nene Sees Faster Growth and Smaller Budget Gap
Foreign investors became net sellers of South African bonds this month, with 30.4 billion rand ($2.43 billion) exiting in 12 straight days of outflows through Monday, according to Johannesburg Stock Exchange data. Average daily outflows in the last month were 961 million rand, the most since the election of Donald Trump as U.S. president in November 2016.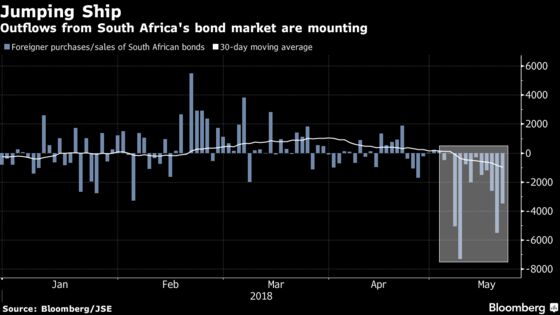 That helped push yields to the highest level this year, with losses for dollar investors of 11 percent, almost twice the emerging-market average of 6.3 percent. Only Argentina, Turkey and Brazil fared worse.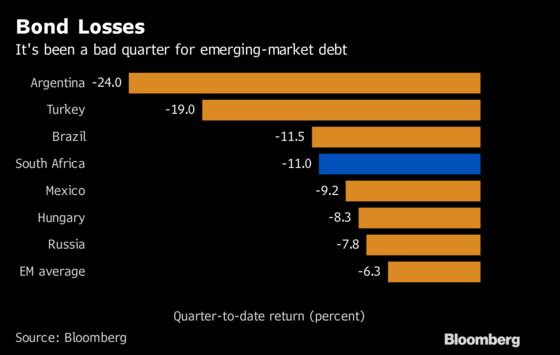 The selloff was sparked by rising U.S. Treasury rates and the strengthening dollar. But as the greenback's rally paused this week, yields on South African securities started declining. The rate on benchmark 2026 government bonds dropped 11 basis points on Tuesday, the most since mid-February, to 8.54 percent.
Yields extended the retreat after Nene said South Africa's economy will expand faster and the fiscal deficit may be smaller than the 4.3 percent of gross domestic product forecast in the February budget. That would reduce pressure on government finances at a time when the Treasury is trying to stabilize South Africa's debt burden.
Even as the rise in U.S. 10-year yields continues, "we nevertheless expect local yields to compress marginally towards year-end, provided that global market turmoil has subsided by then," Zaakirah Ismail, a Johannesburg-based strategist at Standard Bank, wrote in a client note Tuesday.