S.Africa Treasury Likely To Maintain 2020-21 Bond-Sale Level
(Bloomberg) -- South Africa's National Treasury will probably keep the levels of its bond auctions constant until the end of the fiscal year, even with domestic-debt issuance running ahead of target.
The Treasury is unlikely to "adjust its in-year bond auction levels due to the short time period remaining after the presentation of the 2021 budget," its media desk said Wednesday in an emailed response to questions, while emphasizing that the department "does not front-run the budget."
Finance Minister Tito Mboweni is due to present the national budget on Feb. 24, while the fiscal year runs to the end of March.
The government in October said its total borrowing requirement for the 2020-21 budget year would be 774.7 billion rand ($51.7 billion). The weekly bond auctions have been oversubscribed and if it continues to issue local-currency debt at the rate of 12.4 billion rand a week, the Treasury could exceed the estimate by 96 billion rand, according a client note by FirstRand Group's Ltd.'s Rand Merchant Bank.
Domestic-bond issuance is running ahead of estimates because of strong uptake in non-competitive bond auctions, supported by an increase in the limit, the Treasury said. While it's not deliberately raising more money than planned, cash balances are good due to the demand at the non-competitive sales and higher tax collections, according to the Treasury.
Revenue collected from April through December is 10.6% lower than the same period a year earlier. That compares with a shortfall of 17.9% projected for the full 2020-21 fiscal year in the medium-term budget policy statement.
"Government raises funding to fund the budget deficit and to an extent that there is over-funding in a given fiscal year, the over-funding would then contribute toward high cash balances that can be used in the subsequent fiscal years to fund part of the budget deficit," the Treasury said.
The government in October forecast that the consolidate budget shortfall would widen to 15.7% of gross domestic product in the current fiscal year, before moderating to 10.1% of GDP in 2021-22.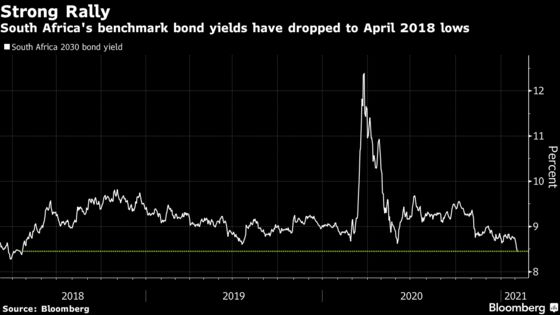 South African local-currency debt has rallied strongly mainly because of the improving fiscal story, said Mike Keenan, the Johannesburg-based Sub-Saharan strategist at Absa Group Ltd. Yields on the country's rand bonds due January 2030 are at the lowest since April 2018.
"South Africa's relatively elevated real yields at the back end of the yield curve are also enticing foreign investors to add duration," said Keenan. "We still believe that there is scope for Treasury to reduce issuance in the new fiscal year, due to some positive upside surprises in tax collections."