S. African Ruling Party Recommends Ramaphosa Rival Step Down
(Bloomberg) -- The South African ruling party's ethics body recommended that a key rival of President Cyril Ramaphosa step aside or be suspended.
Ramaphosa has struggled to assert his authority over the African National Congress since winning its presidency by a narrow margin in late 2017, with Secretary-General Ace Magashule at the forefront of a group of detractors who've continually undermined his authority. The state last month charged Magashule with crimes including fraud and money laundering, raising the prospect that he could be sidelined politically.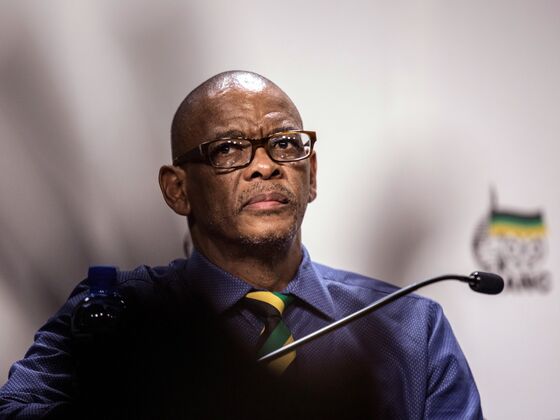 The ANC's Integrity Commission said the party must implement an August resolution that officials facing criminal charges be removed from office, according to a document seen by Bloomberg and confirmed by two people familiar with the matter. The people asked not to be identified because the information isn't public.
"I have received the report and will respond at an appropriate time," Magashule said by phone, without commenting further.
Integrity Commission Chairman George Mashamba declined to comment when reached by phone. ANC spokesman Pule Mabe didn't answer calls to his mobile.
Ramaphosa came to power with a pledge to clamp down on state corruption that became rampant during his predecessor Jacob Zuma's nine-year rule. The government estimates that more than 500 billion rand ($33 billion) was looted from the state, much of it from government firms, while Zuma was in power.
Ramaphosa's efforts to stem corruption have been undermined by an ANC faction that's loosely coalesced around Magashule, a close ally of Zuma.
The issue of what should happen to implicated officials will likely be on the agenda of a key ANC conference next year, where delegates will discuss the progress it has made in implementing its resolutions. Ramaphosa may face criticism that his administration has made scant headway in implementing other key decisions, including nationalizing the central bank and enabling the state to seize land without paying for it.
The ethics body's recommendations must now be submitted to the ANC's leadership, including the National Executive Committee, which will decide what the next steps are. Ramaphosa said last week the party is finalizing guidelines on how to deal with members who are either formally charged or reported to be involved in serious crimes.