South Africa Central Bank Seeks Consistently Lower Inflation
(Bloomberg) -- South Africa's central bank wants to see sustainably lower inflation to ensure cheaper borrowing costs in the economy, Governor Lesetja Kganyago said.
"We have indicated that a consistently lower rate in the near term, at the midpoint of our target band -- 4.5 percent -- would lower long-term interest rates and be more supportive of balance in the economy," Kganyago said Wednesday in a speech in Stellenbosch, near Cape Town.
The Reserve Bank increased its key interest rate for the first time in more than two years in November, even as the economy had just come through a recession and hasn't expanded at more than 2 percent annually since 2013. Growth in gross domestic product slowed to 0.8 percent last year and Kganyago said in an interview earlier on Wednesday that the central bank's 1.7 percent growth projection for the year didn't include the impact of power cuts, which may hurt output.
The Monetary Policy Committee held the rate at 6.75 percent in January as plunging crude costs and rand gains improved the bank's price-growth outlook. It will announce its next decision on March 28.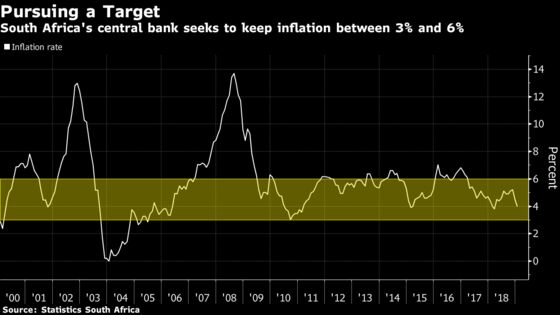 The central bank targets inflation in a range of 3 percent to 6 percent, but has made it clear it prefers price growth close to the mid-point. The case for the existing inflation-targeting framework is very strong because it helped to bring down price growth and interest rates, Kganyago said. Consumer prices rose 4 percent from a year earlier in January.
"We would like to improve on this track record and edge both inflation and interest rates lower on a sustainable basis," he said. "This is the most important contribution that monetary policy can make to full employment, economic growth and the well-being of our society."