South Africa Rate Bets Rise as Inflation Jumps to 14-Month High
(Bloomberg) -- Traders raised bets that South Africa's central bank will tighten policy this year after inflation accelerated more than expected, resulting in a negative real interest rate for the first time in more than five years.
Forward-rate agreements starting in six months, used to speculate on borrowing costs, rose and are now pricing in a 73%-chance that the repurchase rate will be 50 basis points higher by year-end. Price-growth expectations, as measured by the five-year breakeven rate, rose to the highest since March 8.
Inflation accelerated to a 14-month high of 4.4% in April from 3.2% the previous month. That means the rate of price growth is now above the central bank's key interest rate of 3.5% for the first time since February 2016, near the end of the last significant tightening cycle.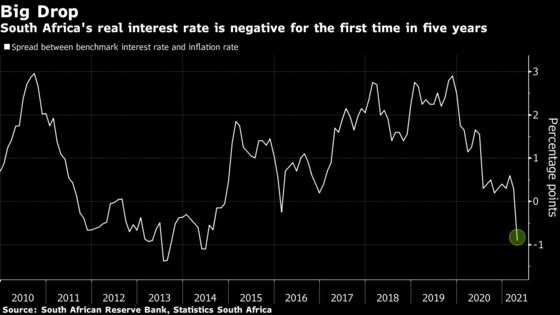 All 19 economists in a Bloomberg survey expect the monetary policy committee will leave the benchmark rate unchanged on Thursday. The acceleration in consumer-price growth was predicted by the central bank, and is largely due to the base effects from inflation that dropped to almost 2% during a strict domestic coronavirus lockdown in the second quarter of 2020 that shuttered most activity and an increase in fuel prices.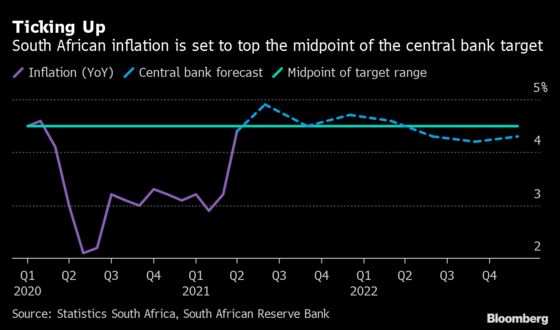 Governor Lesetja Kganyago said in an interview last month that policy makers see risks to the inflation outlook as balanced and feel that they can continue to offer support to Africa's most-industrialized economy. The central bank will not be in a hurry to normalize policy rates, Kganyago said at the time.
"Normalizing policy rates isn't the same as hiking to chase inflation," said Gina Schoeman, an economist at Citibank South Africa. "A process of normalizing rates when inflation is contained and isn't volatile will be well communicated and shouldn't come as a surprise".
The strength of the rand could offset potentially higher food inflation and higher-than-expected increases in administered costs including electricity and water, and could see the bank leave the benchmark steady until the first quarter of next year, she said. The currency has strengthened more than 4.5% against the dollar this year, according to data tracked by Bloomberg.
The implied policy rate path of the central bank's quarterly projection model, which the MPC uses as a guide, in March indicated one rate increase of 25 basis points this week followed by another of the same margin in the fourth quarter. The panel will likely publish an update on Thursday.