South Africa Plans Short-Dated Bond to Lower Borrowing Costs
(Bloomberg) -- South Africa plans to introduce a new short-dated bond to help lower government borrowing costs by lessening dependence on more expensive long-term debt, National Treasury officials told investors.
The Treasury is discussing the possibility of issuing a fixed- or floating-rate short-dated note to alleviate pressure on the yield curve, acting director for debt issuance and management Thembi Mda said, according to two people who listened to the call with domestic investors. They asked not to be identified because access to the call was restricted. Details are likely to be announced in the February budget, according to the people.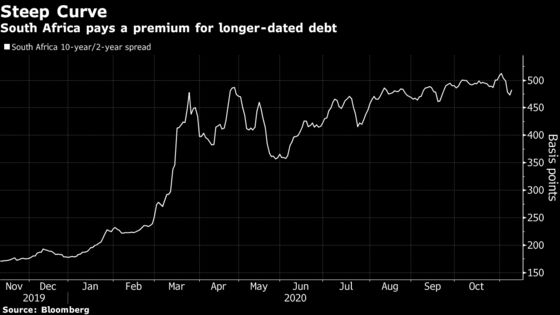 The National Treasury's media desk confirmed by email that the government is considering issuing a shorter-dated funding instrument.
South Africa's yield curve has steepened as slowing inflation dragged short-term rates lower, while concern about the government's burgeoning debt pile sent long-dated yields soaring. Debt-service costs are the government's fastest-growing expenditure item and will increase by an annual average of 16% over the next three years, according to Treasury forecasts.
Reducing spending is key to Finance Minister Tito Mboweni's plans to target a primary budget surplus in fiscal year 2026, when debt is expected to peak at 95.3% of gross domestic product. Shorter-dated issuance would be a cheaper way to finance the shortfall, with investors currently demanding a return of around 6.92% for 2026 notes compared with 8.86% for benchmark 2030 securities on Tuesday.
The Treasury plans to reduce projected spending by about 300 billion rand ($19.6 billion) over the next three fiscal years, mainly by paring a salary bill that's surged by 51% since 2008 and is now equal to 11% of GDP. The plan risks backlash from politically influential labor groups that are already trying to compel the state to honor a previously agreed pay deal through the courts.
The pay-freeze plan depends on arbitration processes ending in favor of the government, Edgar Sishi, the acting head of the Treasury's budget office, said on the call, according to the people. If unsuccessful, plan B is to reduce the civil service headcount of 1.3 million, although that isn't the preferred option because it could have unintended consequences, he said, according to the people.
Public-sector wages are a matter for the Department of Public Service and Administration, "however there are other options that government is discussing with labor and these will provide a mix of actions to remain within the fiscal framework," the Treasury said in an emailed response to questions.