South Africa's New Covid Cases Almost Quadruple in Four Days
(Bloomberg) -- South Africa's daily confirmed Covid-19 cases almost quadrupled from Tuesday as the omicron variant spreads across the country, showing how contagious the new strain may be.
The country recorded 16,055 infections in the last 24 hours and the positivity rate accelerated to 24.3% of tests from 16.5% on Tuesday, according to the National Institute for Communicable Diseases. 
The new figures demonstrate the rapid spread of the virus since the new strain was identified last month. Containing the outbreak has been made more difficult by low vaccination levels, even as questions remain over the efficacy of existing shots against omicron.
A South African study of infections since the start of the pandemic found that the risk of reinfection from omicron is three times higher than for any previous strain. The country has already faced three devastating waves over the past year and a half. 
Another 25 Covid-19 related deaths were reported, bringing total fatalities to 89,944 to date. Hospitals reported an increase of 279 admissions in the past 24 hours, bringing the total to 3,202.
Despite the surge this week, daily new cases remain below peaks recorded earlier this year, with deaths far from previous highs. There are also signs of a jump in vaccinations since the new variant emerged. Some doctors have described many omicron cases as mild.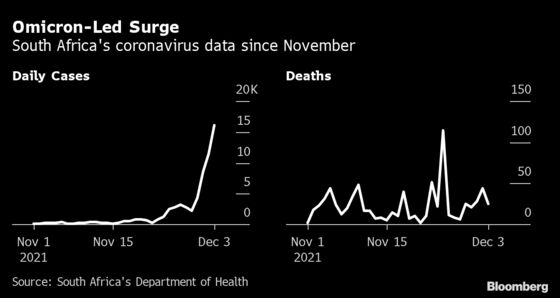 Gauteng, South Africa's economic hub, accounted for a majority of the new cases, with 72% of the the infections recorded there. The Western Cape and KwaZulu Natal provinces had 6% of the new cases. 
In Gauteng each infected person on average is able to pass on the virus to another 2.33, according to the National Institute for Communicable Diseases. That's a record rate, and any level over 1 means the virus's spread is accelerating. 
Government officials will meet over the next few days to assess the severity of the coronavirus resurgence in the wake of the omicron variant and decide whether more stringent virus restrictions are needed, Health Minister Joe Phaahla told reporters at a briefing on Friday.