South Africa Confidence Drops to 2018 Low as Consumers Feel Pain
(Bloomberg) -- South African consumer confidence declined to the lowest level this year in the third quarter as the outlook for the economy and households' financial prospects declined.
The index dropped to 7 from 22 three months earlier, Johannesburg-based FirstRand Ltd.'s First National Bank retail-banking unit said in an emailed statement Wednesday. The University of Stellenbosch's Bureau for Economic Research compiles the data on the lender's behalf.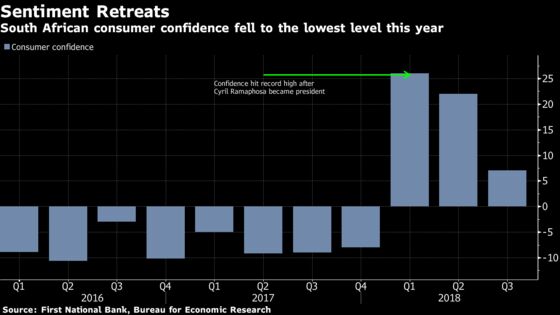 Consumer confidence surged to a record in the first quarter as Cyril Ramaphosa's ascent to the presidency boosted business and investor sentiment and the rand after Jacob Zuma's nine years in office eroded trust and dented the economy.
"It is not surprising that the index has wilted somewhat after the unprecedented increase and record-high level recorded during the first quarter of 2018. 'Ramaphoria' has faded and it has become increasingly clear that domestic economic growth and job creation are still stuck in low gear," FNB said.
While the government's plan to change the constitution to explicitly allow for seizing land without paying for it heartens less affluent consumers, it's creating apprehension among property owners and the investment community, it said.
The rand has weakened 11 percent against the dollar this year and the price of fuel, which South Africa imports before refining locally, reached a record high in November, rising 22 percent in the economic hub of Gauteng, from a year earlier, placing pressure on household finances.