South Africa Business Confidence at Lowest Since Junk Rating
(Bloomberg) -- South African business confidence fell to the lowest level since the country lost its investment-grade credit rating, as political and policy uncertainty continue to weigh on sentiment.
The gauge dropped to 31 in the fourth quarter from a revised 34 in the previous three months, FirstRand Ltd.'s Rand Merchant Bank division and the University of Stellenbosch's Bureau for Economic Research said in an emailed statement Tuesday.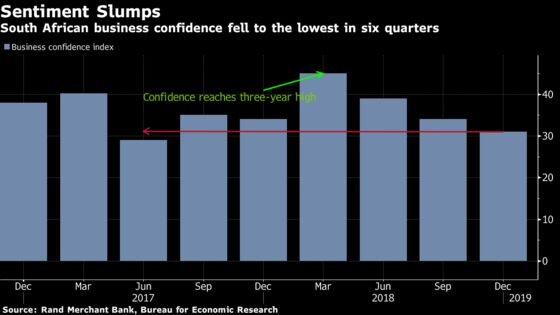 Confidence is now at the lowest level since the second quarter of 2017, when former President Jacob Zuma's move to fire Pravin Gordhan as finance minister saw the country's debt cut to junk by S&P Global Ratings and Fitch Ratings Ltd. While Cyril Ramaphosa's ascent to the presidency boosted business confidence earlier this year, sentiment has since cooled and the rand reversed all the gains that came on the back of the change in leadership.
The ruling African National Congress's decision to change the constitution to make it easier to expropriate land without compensation added to policy uncertainty, even as Ramaphosa's moves to change some key ministers and the management of state companies such as Eskom Holdings SOC Ltd. were seen as positive steps. The mid-term budget last month painted a bleak picture of the nation's finances, with government debt peaking at higher levels, and two years later, than previously forecast.
The index level shows that seven of every 10 respondents are unhappy with prevailing business conditions, RMB said.
"The reality is a multitude of political and policy issues, chief among them being the uncertainty around the government's land-reform plans, continue to weigh down on confidence," Ettienne le Roux, chief economist at RMB, said in the statement. "Unless these are resolved in a more speedily and concrete fashion, private-sector fixed investment, and by implication, economic growth will remain disappointingly low."