South Africa Budget Primes Traders for Rally and Some Volatility
(Bloomberg) -- Rolling blackouts will be in effect for South Africans on Thursday afternoon when Finance Minister Enoch Godongwana attempts to convince investors there's light at the end of the tunnel for Africa's most industrialized economy.
Godongwana will present his maiden mid-term budget policy statement to lawmakers. He'll show how the country plans to curb its burgeoning fiscal deficit while supporting a sluggish economic recovery. 
Markets seem unperturbed: Bond yields have already dropped by the most this month since May 2020, while traders have reduced bearish bets on the rand to pre-pandemic levels. Analysts from Informa Global Markets are predicting a small rally in local assets even though the expectation of improving debt metrics is largely due to technical developments.
"Both the South African government and the market are likely to celebrate lower debt and deficit figures in the medium-term budget policy statement," said Christopher Shiells, the London-based managing analyst at Informa Global Markets Ltd. "But these headline numbers are hiding underlying fiscal risks and calls for continued caution."
These charts show how markets are positioned ahead of the budget: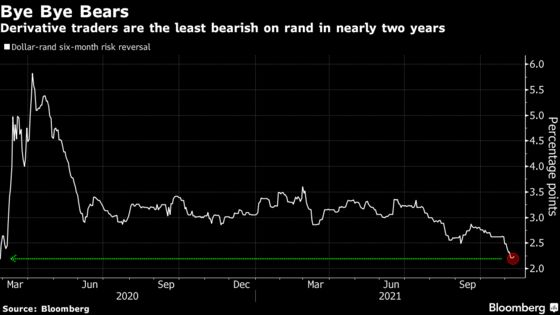 Bearish bets on the South African currency have dropped to pre-pandemic lows. The rand's six-month risk reversals -- a gauge of the premiums to hedge against rand declines in the options market -- have sunk to February 2020 levels.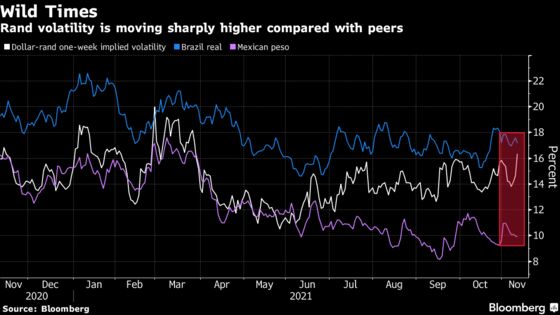 That said, the rand's one-week implied volatility versus the dollar has risen for three straight days through Wednesday to the highest since March, as options trader anticipate wider price swings after the budget. Credit-rating reviews and an interest-rate decision are also coming up next week, keeping investors on edge.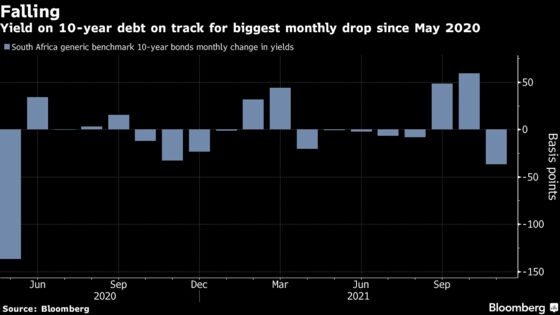 South African debt has been rallying this month. Yields on generic 10-year rand-debt have dropped 40 basis points this month to around 9.8%. That decrease is the most in a month since May of 2020. They may fall further if Godongwana delivers improved deficit and GDP forecasts, said Shiells at Informa.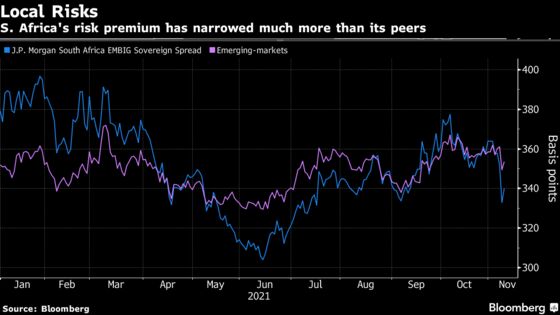 Hard-currency bond investors are also showing faith in Godongwana. The premium investors demand to hold the country's dollar debt rather than U.S. Treasuries has dropped below the emerging-market average. It is now hovering around its lowest since July.