Capitol 'Caveman' Charged in Riot Is Son of New York Judge
(Bloomberg) -- The son of a New York judge was charged in last week's riot at the Capitol, accused of stealing a U.S. Capitol Police riot shield and armored vest as he joined the mob that stormed the building to "take back" the country.
Aaron Mostofsky, of Brooklyn, New York, was charged Tuesday with theft of government property, knowingly entering a restricted government building, and disorderly conduct for his alleged involvement in the Jan. 6 insurrection. He was released on a $100,000 bond.
Mostofsky is the son of Kings County Supreme Court Judge Shlomo "Steven" Mostofsky, according to a person familiar with the matter. He faces a maximum of 10 years in prison if convicted of the most serious charge, theft of government property.
Ken Fisher, a spokesman for the judge, and Lucian Chalfen, a spokesman for the New York State courts, declined to comment on the charges.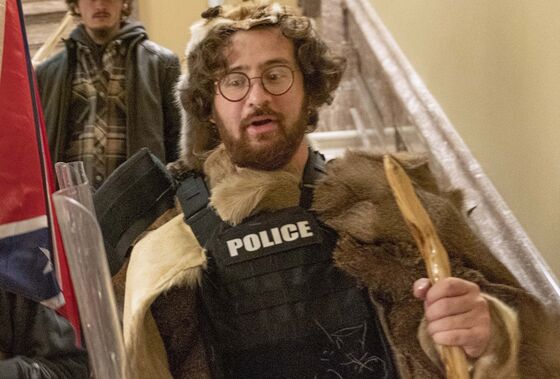 Mostofsky, 34, is the man whose image, in caveman pelts and carrying a spear or staff, was among those from the melee that went viral. He is one of more than 70 arrested after a day of violence that left five people dead, including a Capitol Police officer. The failed coup has led to an effort to impeach President Donald Trump, fresh questions about Trump's future role in the Republican Party and a new national reckoning over the breadth of white supremacist terrorism in the U.S.
At a virtual hearing on Tuesday in federal court in Brooklyn, U.S. Magistrate Judge Sanket Bulsara agreed to free Mostofsky on the bond, secured in part by his brother Neil, who told the court he runs a nonprofit group that "educates members of Congress."
Bulsara ordered Mostofsky not to communicate with any co-conspirators or co-defendants or to join a political gathering, barred travel to Washington or any state capital and directed that he be monitored by GPS.
Offering a possible glimpse of his defense strategy, Jeffrey Schwartz, a lawyer for Mostofsky, said his client never joined in the insurgency.
"The evidence will show he was not part of the mob, and he was not rampaging -- he got caught up in it," Schwartz told the judge.
Prosecutors say that Mostofsky, who was arrested by federal agents in Brooklyn on Tuesday morning, was captured on video carrying a U.S. Capitol Police riot shield and vest with ballistic body plates. They say he had declared in an interview that "we were cheated" out of the election, saying, "I don't think 75 million people voted for Trump. I think it was close to 85 million."
The government says he implicated himself with comments he made on Instagram and Facebook, starting with a message he sent on Wednesday just after 6 a.m. in which he said he was "on this bus going to DC." He later told a friend he was trying to meet outside the building, "look for a guy looking like a caveman."
In what the U.S. says was an apparent reference to the election, he added that "even a caveman knows it was stolen."
After entering the Capitol, Mostofsky sent a message saying "it was like I'm in here now how did I get there" and gave an interview to a New York Post reporter in which he identified himself as "Aaron" and said he was from Brooklyn, according to a criminal complaint unsealed Tuesday.
Mostofsky recorded himself inside the Capitol in an Instagram account authorities have linked to him. One social media user wrote to him, "Your famous," to which he replied, "IK unfortunately." When asked, "why unfortunately," he replied, "Cause now people actually know me," the U.S. says.
It was in this conversation that he confirmed he was the person with U.S. Capitol Police property, prosecutors say.
Mostofsky is scheduled to appear in a Washington court on Jan. 25.
The case is U.S. v. Mostofsky, 21-mj-00034, U.S. District Court, District of Columbia (Washington).