Something for Everyone From Fed Leaves Investors Debating 2019
(Bloomberg) -- Market hawks and doves alike took some comfort from Jerome Powell and the Federal Reserve.
Now, as rates climb, the differing views from investors such as Morgan Stanley and Charles Schwab over the speed of tightening next year is emboldening debate about their various trade convictions.
The difficulty, as it has been for much of this year, is the pace of action on monetary policy and what that means for asset prices. The Fed is divided on 2019 -- four members see two hikes, another four see three, while others see as many as four interest-rate increases.
In 2019, "there is a consensus that there will be more moves but not a real strong consensus yet as to how many," Dennis Lockhart, former Fed Bank of Atlanta President, told Bloomberg TV. "They are going to feel their way along toward a notion of neutral."
Here is an edited snapshot of reactions from investors and strategists:
Jeffrey Cleveland - Payden & Rygel
Powell's press conference was very interesting because he talked a lot about uncertainty -- don't be too certain, we don't know, a lot of things could happen. I feel the same way with interest rates. A lot of people in the bond market are very confident that the 10-year yield will stay around 3 percent. In the next six months it could move higher than that because not only will the Fed keep hiking, the terminal rate will end up being higher than 3 percent, maybe as high as 3.5 percent.
There's also the risk of inflation surprising on the upside next year. A lot of signs we're tracking for future inflation point to some inflation risk. So, if that happens, yes 10-year yields could track higher to 3.5 percent over the next 12 months.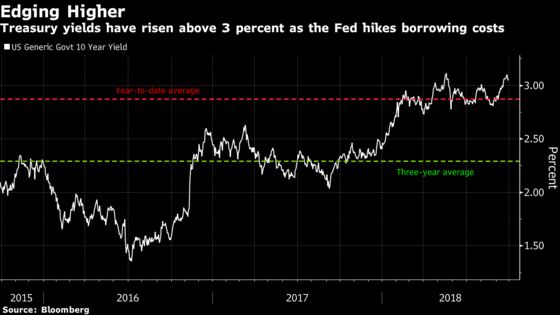 Raymond Lee - Kapstream Capital
If the curve remains where it is, which is my base case, by the middle of the next year the Fed will hike at least two more times. So if you assume the curve is going to be relatively flat, 10-year Treasury yields should be at 3.25 percent, maybe 3.5 percent.
Lachlan McPherson - Charles Schwab
There's a very strong likelihood that we're going to get a lot more volatility as we see more tightening. We're in the late stages of a bull run and that can increase volatility. McPherson favors defensive equities in the U.S., such as health care. He expects further appreciation in the dollar.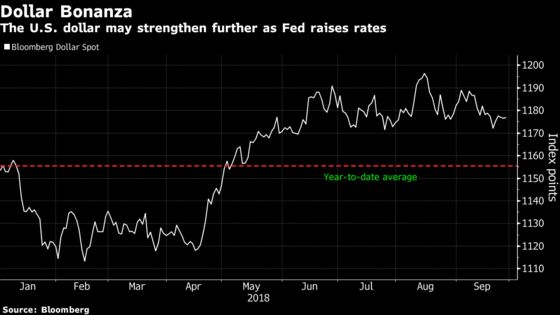 Matthew Hornbach - Morgan Stanley
Expects the Fed to hike three additional times through June 2019 when we expect the shape of growth to be interpreted as a sign the Committee has reached neutral and sees the need to pause.
Powell's view on risks to a faster pace of rate hikes suggests that for Treasuries to break to new yield highs, U.S. CPI inflation needs to surprise to the upside. The next look at that comes Oct. 11.
Akira Takei - Asset Management One
The U.S. yield curve will steepen as the Fed funds rate plateaus. The most profitable trade will shift to the five- to 10-year part of the Treasury curve, away from previously favoring the 10 or 30 years. The Fed's latest move doesn't immediately lead to a yield curve steepening, but it was a step forward. The fact that the curve didn't flatten sharply reaffirmed our strategy of preparing for a curve steepening. Asset Management One is boosting short positions on the dollar after the FOMC decision.
Mark Cabana - Bank of America Merrill Lynch
Fed projections provide theoretical upside to dollar, however, the market lacks a catalyst. Markets continue to expect about two rate hikes next year, versus the Fed at three.
We continue to think that the dollar has likely topped out and is set to begin weakening again on a trend basis, predicated on well-priced Fed hikes over the next few meetings, an increase in risk premium around upcoming U.S. midterm elections, a less-supportive structural balance of payments flow backdrop, deteriorating debt dynamics and a somewhat rich longer-term valuation.