Solution for Poland's Swiss-Loan Row Is Nearing, Regulator Says
(Bloomberg) -- Poland is getting closer to resolving $30 billion Swiss-franc mortgage issue, the head of financial regulatory said after the central bank vowed to help convert the troublesome loans into zloty.
Most banks with foreign-currency mortgages on their books are sounding out their clients or preparing pilot programs for out-of-court settlements amid a wave of lawsuits, Jacek Jastrzebski told radio Tok FM. He described as "promising" a survey that showed the vast majority of Swiss-franc borrowers interested in a deal.
"The work is ongoing and moving quite intensively," Jastrzebski said on Thursday. "We're at the stage when banks are preparing, or already launching pilot schemes."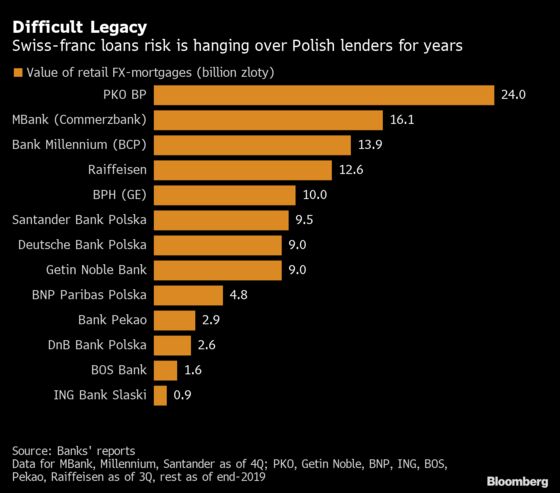 The regulator stepped up pressure to end the court saga in December, when Jastrzebski asked lenders to consider industry-wide settlements to cut short the legal uncertainty. This week, the central bank set out conditions for helping lenders convert Swiss francs into zloty, including halting dividends and bonuses as well as higher capital requirements.
Poland's main banking lobby group immediately replied that it wanted to negotiate the terms of the central bank's assistance, but lenders' options are increasingly limited as plaintiffs won roughly 90% of court cases against their banks last year.
The success of borrowers in courts has forced lenders, including MBank SA, Bank Millennium SA and ING Bank Slaski SA, into mounting provisions. While PKO Bank Polski SA, the nation's biggest lender, ING Bank Slaski SA and several others are running pilot settlement programs, progress isn't uniform.
Commerzbank AG's MBank SA said it's seeking more clarity about legal issues arising from settlements. Santander Bank Polska SA is starting survey clients before it decides whether to pursue a settlement program. There is also unclarity over some of the conditions needed to receive central bank assistance.
A survey by PKO, whose involvement is seen as essential for the success of any industry effort, showed that 70% of its customers would be willing to sign out-of-court agreements, 25% asked for additional calculations and 5% weren't interested in settling, according to Chief Financial Officer Rafal Kozlowski.
The industry is also racing against time before Poland's top court presents on March 25 its most comprehensive guidance yet on how to deal with the flood of Swiss-loan lawsuits. Jastrzebski hopes the ruling won't reduce the attractiveness of the voluntary settlements, which he said may be a better option for clients.
"It seems we are moving ahead" toward a solution to the Swiss-loan issue, said Raffaella Tenconi, a London-based economist at Wood & Co. "I'm not of the impression that a deal is imminent -- we are around year 13 of the saga and it doesn't look like we are at the end still."