Societe Generale to Cut 640 Jobs, Mostly at Investment Bank
(Bloomberg) -- Societe Generale SA plans to cut 640 jobs in France, mainly at its investment-banking operations, as Chief Executive Officer Frederic Oudea moves the bank away from risky products that backfired in the first half.
Part of the reduction relates to SocGen's decision to stop trading in complex structured equities products, the bank said in a statement on Monday. The securities business as well as compliance and risk operations will be affected.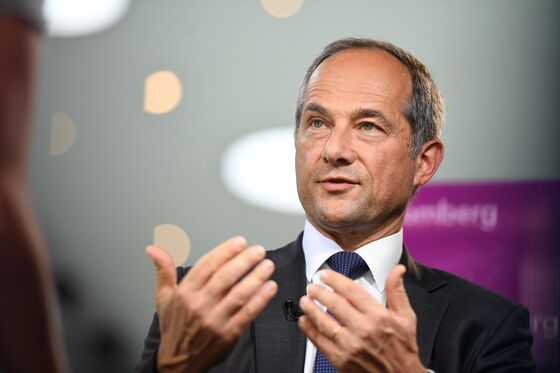 Oudea reshuffled top management in August after the bank's worst quarter since since rogue trader Jerome Kerviel caused a record loss in 2008. The CEO is now reducing risk and accelerating a move toward simpler products at the investment bank, while trying to defend SocGen's leading position in equity structured products.
The job reduction plan doesn't include any forced cuts and will focus instead on voluntary departures and redeploying employees into new roles, the bank said. The initiative is subject to discussions with employee representatives.
The bank said the cuts and the reorganization of some of its businesses will contribute to its plan, announced in August, to lower costs by 450 million euros ($534 million) within its capital markets division by 2023.
SocGen rose as much as 4.2% in Paris trading and was up 3.3% as of 10:59 a.m. The stock has fallen 56% this year, the fourth-worst performance on the STOXX Europe Banks Index.
The bank rebounded in the third-quarter with better-than-estimated profit. Both equities and fixed income trading did better than expected, though the increase fell short of the gains at some rivals during a period of big gains for Wall Street banks.
Job cuts keep coming at European banks, even after many reported lower-than-expected loan losses and strengthening capital ratios in the third quarter. Reductions announced by Banco Santander SA and ING Groep NV took the total job losses announced globally this year to 75,368, Bloomberg reported last week. That's on track to surpass last year's roughly 80,000 cuts.