Social Media Stocks Jump After Snap Results Suggest Ad Strength
(Bloomberg) -- Social media stocks rallied after Snap Inc. reported third-quarter revenue and user growth that beat analysts' expectations, suggesting resurgent advertising spending.
Pinterest Inc. surged a record 14% on Wednesday, getting an extra boost from two analysts who raised their ratings on the company to buy. Both cited Snap's results. Twitter Inc. gained as much as 8.6%, while Facebook Inc. rose 5.8%. Snap soared 31%.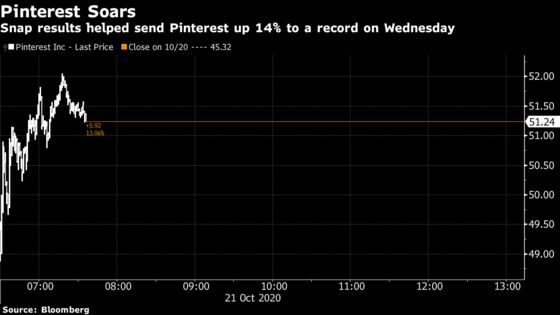 User surveys and Snap's results "suggest that advertiser demand strengthened over the course of the quarter, particularly for smaller platforms like Pinterest, Twitter and Snap," Goldman Sachs analyst Heath Terry wrote in a research note upgrading Pinterest.
Snap's results were "another sign of a strong online advertising rebound," and suggest "traction for self-serve ad platforms with e-commerce exposure," Bank of America analyst Justin Post said in a report.
Pinterest, which said it added media industry veteran Salaam Coleman Smith to its board of directors on Tuesday evening, is next to report earnings on Oct. 28. Facebook and Twitter release quarterly results the following day.