SocGen Pledges Higher Returns After Dropping Profit Target
Societe Generale SA pledged to boost shareholder returns and shifted to a new cash dividend policy after it warned investors to expect muted revenue growth and signaling it's set to miss a key profitability target.
The Paris-based lender -- which is cutting jobs and costs and exiting some businesses -- expects to boost earnings per share and may buy back stock as part of a commitment to pay out half of underlying net income in cash to shareholders in 2020, according to a statement on Thursday. SocGen is seeking to keep shareholders onside after posting a 2019 return on tangible equity target well below its goal for this year as it undertakes a large restructuring.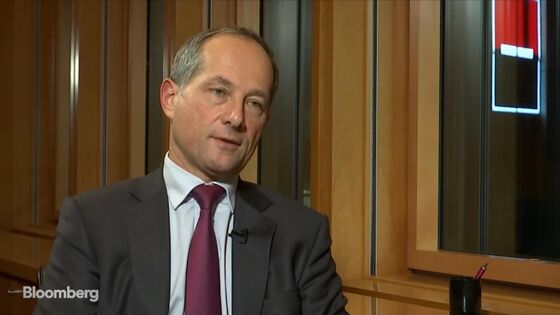 Chief Executive Officer Frederic Oudea, the longest-serving leader of a top European bank, has focused SocGen on its traditional strength in equities and related derivatives after exiting or refocusing fixed-income activities. While he can point to continued progress in boosting the CET1 ratio, a key metric of financial strength, and cutting back some businesses faster than expected, he still faces multiple challenges including negative rates and volatile trading.
SocGen cut its 2020 return on tangible equity target to between 9% and 10% a year ago, joining peers in downgrading goals in a period of low growth. The bank said its forecasting now only an "improvement" on the 6.2% ROTE in 2019 this year and that its target for this year is now one for the medium term. Overall, fourth quarter revenue was above estimates and SocGen expects to complete 500 million euros of cost savings this year.
SocGen shares rose as much 1.6% in Paris and traded 1.5% higher as of 9:13 a.m. local time.
After whiplashing markets hurt earnings in the final months of 2018, Oudea embarked on SocGen's biggest restructuring in years, cutting 1,600 jobs, slashing costs and paring risk after abandoning some mid-term targets for growth and profitability. The lender has sought to dispel concerns over whether it will have to tap markets for more funds, increasing its buffers for the past three quarters.
Equities trading revenue, a traditional strength of the firm, was about 9% higher in the fourth quarter at 637 million euros thanks to "solid performance" in equities derivatives. While that was well below closest rival BNP Paribas, it was better than UBS Group AG and some top Wall Street firms, where equities performance varied widely. Fixed income revenue gained 27% even after SocGen exited some activities.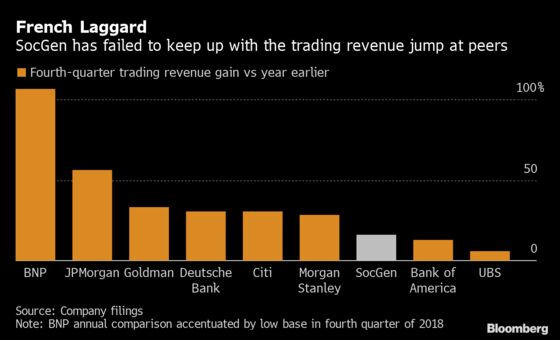 The world's top securities firms rode a surge in demand for government bonds and products for hedging interest rate risk while many stumbled in the business of trading stocks. To cement its leadership in equity derivatives, SocGen acquired the exchange-traded products and market-making operations of Germany's Commerzbank AG in 2018.
Eight of SocGen's U.S. and European competitors saw their debt trading revenue rise 57% on average in the fourth quarter from a year earlier. Despite the gains in trading, European banks face challenges from negative rates in their bread-and-butter banking business. BNP Paribas SA, France's biggest bank, dropped a profitability goal on Wednesday and introduced a lower 10% return on tangible equity target for 2020.
SocGen achieved its 2020 target for its common equity tier one ratio of 12% ahead of time last quarter. The bank had been working with McKinsey & Co. to find ways to bolster its CET1 ratio, a person familiar with the matter said in May.