SocGen CEO Takes Over Compliance After $2.6 Billion Fines
(Bloomberg) -- Societe Generale SA Chief Executive Officer Frederic Oudea is taking over the bank's risk and compliance functions, seeking greater control over management of the bank's legal affairs after it paid billions of dollars in penalties.
Oudea will take over the responsibilities from deputy CEO Diony Lebot, who has overseen remediation programs related to proceedings in the U.S., the bank said in a statement on Friday. Lebot will be in charge of the bank's ESG policies and retain supervision of specialized financial services and the insurance units.
SocGen in 2018 agreed to pay $2.6 billion to settle several cases in the U.S. and France, including a probe into the bribery of Libyan officials and a U.S. investigation into interest-rate manipulation. To help avert restrictions on the bank's U.S. business, Oudea at the time also sacrificed deputy CEO Didier Valet, who had been named to the role only a year earlier, and reshuffled management.
The accords provided for charges to be dismissed after a three year period, as long as the bank complied with their terms. SocGen said earlier this month that two proceedings by the U.S. Department of Justice in the matter have now been closed. 
Shares of the lender fell 0.3% at 12:22 p.m. in Paris, paring gains this year to 71%.
Bank CEOs rarely take direct control of separate functions such as compliance and risk, more often leaving it in the heads of deputies. After the Archegos Capital blowup, Credit Suisse Group AG head Thomas Gottstein appointed two deputies to take on the duties of departing risk and compliance chief Lara Warner. 
In 2019, Deutsche Bank AG CEO Christian Sewing's decision to also oversee the lender's investment bank drew criticism from regulators, prompting him to cede the duty to Fabrizio Campelli earlier this year.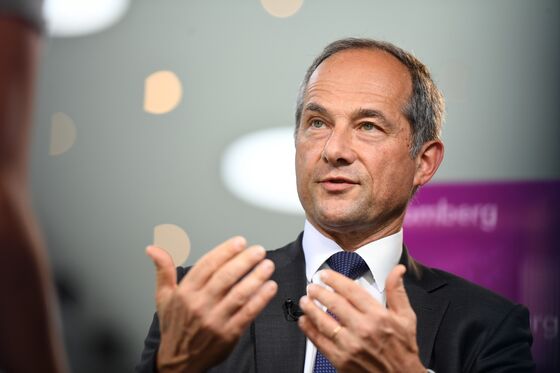 Oudea, one of the longest-serving bank CEOs in Europe, last reshuffled top management in August 2020, when he ousted two of his top deputies after the bank's biggest quarterly loss in a decade. Last month, deputy general manager and group Chief Financial Officer William Kadouch-Chassaing left the lender in a surprise departure.
As part of the latest management changes, Gaelle Olivier will become deputy general manager and chief operating officer, supervising the bank's resources and coordinating the IT, digital transformation and innovation functions. 
Olivier, who previously headed the bank's Asia Pacific unit since 2020, spent most of her career at French insurance giant AXA SA. Women now make up one-third of SocGen's general management.
Some of the biggest legal sagas at European lenders are coming to a head this year. UBS Group AG, which is fighting a 4.5 billion-euro ($5.1 billion) fine in France, will find out whether its attempt to topple the penalty will succeed next week. 
Deutsche Bank's recent troubles with the U.S. Department of Justice, after it failed to inform officials about an internal complaint tied to its asset-management arm DWS Group, are a stark reminder that the industry's legal risk remains high.