Football Fans in Poland Raise More Than $1 Million for Ailing Team
(Bloomberg) -- When a 112-year-old Polish soccer club with 13 national championship titles teetered dangerously close to bankruptcy, its fans stepped in with funding.
Wisla Krakow SA supporters turned equity investors, saving their beloved team and boosting an emerging niche capital market in the process. They drummed up 4 million zloty ($1.1 million) between 9,129 investors who bought 40,000 shares in less than two days earlier this year, using the Beesfund crowdfunding platform. The fast-track raising has attracted other sports teams, said Beesfund Chief Executive Officer Arkadiusz Regiec.
The clubs are adding to Beesfund's roster of clients, which before Wisla Krakow's fan-led revival was similar to the line up of restaurant, IT startups and independent breweries typical of crowdfunding operators abroad. Beesfund estimates it may help to raise as much as 80 million zloty this year, bolstered by demand from sports teams and in contrast to a persistent lull in initial public offerings on the Warsaw Stock Exchange.
"Crowdfunding should allow to us to escape this grim time we're experiencing in Poland's capital market," Regiec said by email. "It's a chance for people to become shareholders in businesses they understand, without intermediaries. This seems to be attractive, even if we offer pretty high-risk investments."
Beesfund operates under the less-exacting rules the markets watchdog sets for smaller deals. The platform offers companies the chance to sell as much as 4 million zloty of shares, with firms receiving their money only once they achieve a predetermined fund-raising goal. Costs, including marketing expenses, can run to as much as 12 percent of the transaction value. Investors make money if a company is sold or goes public, with no other way to cash out or trade their shares.
Beesfund is currently hosting four fund-raising deals, in contrast with the muted activity on the main stock exchange. Warsaw's first main-board listing of the year takes place Wednesday when nano-conductor technology company XTPL SA starts trading following its promotion from the NewConnect market for smaller firms, without selling any new shares.
Stocks proved popular among Poles in the first decades of the country's transformation from a socialist state to a market economy. Retail investors accounted for a third of equity trading on the local bourse as state companies privatized and their enthusiasm peaked in 2010 when more than 300,000 Poles snapped up shares in the Warsaw Stock Exchange's IPO.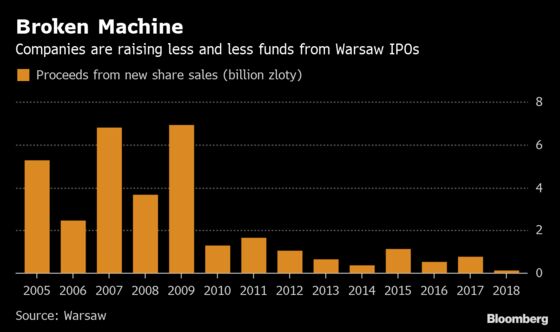 The market's charm has since waned, most recently hit by outflows from mutual funds and a reluctance by pension portfolio managers to increase their already high exposure to stocks. Corporate scandals including GetBack SA's default and a series of smaller frauds at NewConnect-traded companies have only served to increase investor anxiety.