Soaring Pot Stock of the Moment Went by Different Name Weeks Ago
(Bloomberg) -- The latest company to join the pot stock craze is Pyxus International Inc., a newcomer to the marijuana market that went by a different name for the past 145 years up until a month ago.
Shares of the North Carolina-based company, a tobacco supplier formerly known as Alliance One International Inc., now sport a valuation of around $430 million after almost doubling over the past three sessions. The stock climbed as much as 36 percent on Tuesday to its highest level in more than 8 years.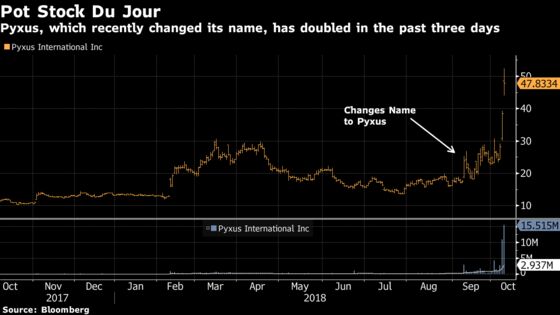 A Monday morning tweet from Citron Research helped spark some of the interest from traders: "$PYX would not short...speculative long. Real management and tight float. The stock could double from here as long as investors are Cannabis crazy. Our favorite hire..and it wasn't last week."
The last sentence in that tweet refers to the hiring of Bryan Mazur, who joined the company earlier this year. He was formerly an executive vice president at Dr. Pepper Snapple Group, where he built multiple brands over the course of 20 years, according to a statement.
Citron, a noted short seller, may not be betting against this pot stock, but other investors most certainly are. Pyxus's short interest as a percent of float has skyrocketed to more than 18 percent, according to Markit, which compares to less than 5 percent in late June.
While Pyxus is getting its day in the sun, other recent high-fliers in the cannabis complex are paring gains. Tilray Inc. is down as much as 9.3 percent despite receiving a big price target boost from a bullish analyst at Cowen, while small-caps India Globalization Capital Inc. and New Age Beverages Corp. are both falling around 20 percent.