Snubbed by Amazon, Newark Pins Its Hopes on Landing the Next Prize
(Bloomberg) -- When Amazon.com Inc. started its search for a second headquarters, Newark offered $7 billion in incentives, proximity to New York City, and the chance to play a starring role in the rebirth of an impoverished city.
Now Newark, a gritty New Jersey shipping hub where the population peaked in 1930, is looking in another direction, along with more than a dozen other finalists that lost out.
The company ended its site-selection process on Tuesday, announcing it will open new office hubs in northern Virginia, and New York's Long Island City. The plans would create 25,000 jobs each in two places that are already known for being expensive and congested, but also stocked with the types of highly educated, well-compensated workers Amazon wants to employ. Amazon also said it would add 5,000 jobs in downtown Nashville.
"It was quite possible for Amazon to do something heroic here," said Jay Biggins, principal at Biggins Lacy Shapiro & Co., which consults on site-selection projects. "They almost could have put it anywhere and achieved success and achieved the mission, which was attracting talent."
Instead, Amazon chose the two largest metros on the East Coast, demonstrating the challenge that smaller markets face in attracting blue-chip employers.
"We were hoping Amazon would fit right into our broader corporate community, but if it's not them, we're ready, willing and able to attract other large corporations," said Aisha Glover, president of the Newark Community Economic Development Corp. "We're taking this pitch on the road, making sure that folks understand why we landed on the short list in the first place. This was not an anomaly."
The first step for Newark and the other losers is to reflect on why they were found wanting, said Tom Stringer, who works on corporate relocations as a managing director at consultancy BDO. Then local leaders can decide whether it's worth investing in improvements needed to court the next major company, or if they're better off going after smaller employers. Smaller cities tired of losing to larger rivals can pursue other strategies, like focusing on attracting investments around research universities, or pursuing jobs that don't require cutting-edge skills or advanced degrees, said Mark Muro, policy director at the Brookings Institution's Metropolitan Policy Program.
"Places need to push back much more aggressively" to avoid getting left behind by bigger cities," said Muro. "Going with the flow will not lead to a good outcome for any of these places."
From the moment Amazon announced its plans to open a second headquarters in September 2017, the search for an HQ2 has functioned as a referendum on U.S. cities. That's partly because of the size of the project, which initially called for a $5 billion investment in a single site that would eventually employ 50,000 workers, and partly because the company conducted the search in public, turning its requests for proposals into a decoder ring for urban spaces.
Amazon wanted strong schools, good transportation, high quality of life and deep pools of digital and professional talent -- though it didn't specify how much weight it would give to each. Two-hundred thirty-eight proposals were submitted, giving observers the chance to bet on the values Amazon would put on economic incentives, cheap housing, geographic diversity and established pools of tech talent.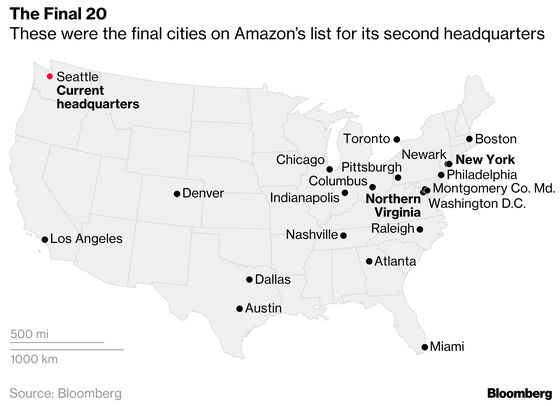 From early on, the competition has been producing losers -- from cities that attracted attention for overzealous proposals to those that became subject to unflattering comparisons. Tucson, Arizona, shipped Amazon a 21-foot-tall cactus as part of its proposal, only to have the company mark the gift return to sender. When Amazon cut its list down to 20 cities, places like Charlotte and Detroit were left wondering what Columbus and Nashville had that they didn't.
The flip side is that cities that made Amazon's long list of finalists could claim, with at least some credibility, that they gained enough exposure from the highly publicized process to make the adventure a success.
The Indianapolis Chamber's Maureen Krauss: "Being in Amazon's top 20, we are winners." Toronto Mayor John Tory: "This process was worth approximately $143 million in advertising value for our region." Bob Swindell, president of the Greater Fort Lauderdale, Florida, Alliance: "If the Amazon search leads even one more business to take a good look at Broward County, then that makes the past year well worth it."
Dallas also touted the process as a "win" for the region, regardless of the outcome.
"We did a lot of work to galvanize our story around tech," said Mike Rosa, senior vice president for economic development at the Dallas Regional Chamber. "We know it's strong here, and we made sure to fortify that and rally our universities. A lot of that is just intuitive now and comes out in conversations we have with other companies."
Other cities might decide that missing out on Amazon is good news. The company could get more than $1.5 billion in direct incentives, based on creating 25,000 jobs in Long Island City, and another $573 million from Virginia. The losers won't have to pay those tabs, and it won't have to deal with traffic congestion or increased housing prices.
An Amazon hub would have spurred on Austin's aspirations as a Texan tech mecca, but it also would have overwhelmed the city's workforce and infrastructure, said Jon Roberts, principal of TIP Strategies, an economic development consultancy.
"A partial HQ2 (25,000 new jobs) in Austin would still have stretched the market beyond its current capacity," Roberts said.