Snoop Dogg Teams With the Harlem Globetrotters on Film and Song
(Bloomberg) -- Hip-hop artist Snoop Dogg is teaming with the Harlem Globetrotters in a new partnership that includes a film, music and digital art.
The rapper and businessman's deal with the Globetrotters, a 95-year-old basketball exhibition team that melds sports with comedy and theater, is part of the show's relaunch as it tries to attract new fans. Terms of the arrangement were not disclosed.
"We're looking for new and unique ways to deepen our roots," Sunni Hickman, vice president of marketing and sales for the Globetrotters, said in an interview. "How do we connect to that next generation?"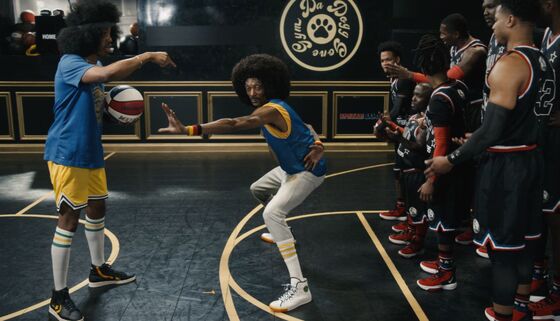 The film stars Snoop Dogg, whose real name is Calvin Broadus. He also wrote a song for the team that features some of the players.
As part of the partnership, Snoop Dogg and the Globetrotters are working with non-fungible token agency Vast, which helps brands release digital art -- a fast-growing market that has captured investors' attention. Vast will release the film and 60-second track for the partnership as NFTs, which are digital art that's been verified as unique through blockchain technology. Digital collectibles, including signed trading cards and sports highlights, have become a hot alternative investment in sports and entertainment.
An active investor in the cannabis and plant-based-food sectors through his venture capital firm Casa Verde, Snoop Dogg has also become enamored with digital art. In September, he revealed that he has been buying up NFTs under the alias Cozomo de' Medici, amassing a $17 million collection.
The Globetrotters, a division of closely held amusement-park company Herschend Family Entertainment, went on a 15-month hiatus starting in 2020 as the Covid-19 pandemic prompted lockdowns and large events around the world were canceled.  
Management reworked the show's business model, moving from a tour-based strategy to one that involves more branded entertainment in addition to live shows.
While away, the team brought in Broadway talent from "The Lion King" and "The Color Purple" productions during their idle shutdown period to help improve the Globetrotters show. 
The Globetrotters returned to touring this summer in the U.S. That has since been extended into 2022, with international shows planned in Mexico, France, the U.K. and Hungary.