SNB Probably Intervened in Late February to Stem Haven Inflows
(Bloomberg) -- The Swiss National Bank appears to have fended off haven inflows into the franc last week with foreign exchange market interventions.
The amount of cash commercial banks hold with Switzerland's central bank increased by 3.5 billion francs, according to SNB data. That's the biggest weekly rise since August and takes total sight deposits to a record high of 595.8 billion francs.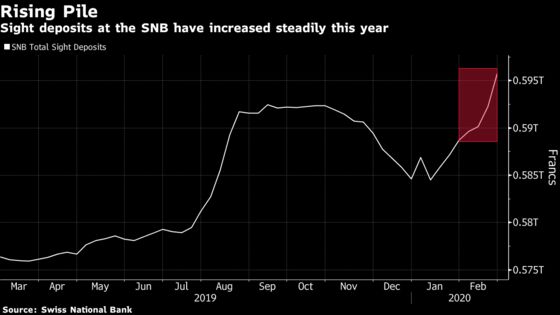 "The SNB is reacting," Credit Suisse economist Claude Maurer said. Still, by historic standards, the interventions are still quite small, he said.
The central bank declined to comment when contacted by Bloomberg.
It uses negative interest rates plus a pledge to buy foreign currency to stem appreciation pressure on the franc. Rising investor risk aversion has driven the currency up against the euro in recent weeks.
Goldman Sachs sees the SNB cutting its deposit rate, currently at -0.75%, by 10 basis points as a result of deteriorating prospects for the global economy.