Snap Jumps as Instagram's Troubles Could Prove to Be Opportunity
(Bloomberg) -- Could the dispute between Instagram's founders and Facebook Inc. spell opportunity for Snapchat? Some investors seem to think so.
Shares of Snap Inc. rose more than 3 percent at the open Tuesday after reports that Instagram's founders are leaving Facebook amid growing tensions. Snap has been struggling in a mobile-advertising market dominated by Facebook and Alphabet Inc.'s Google.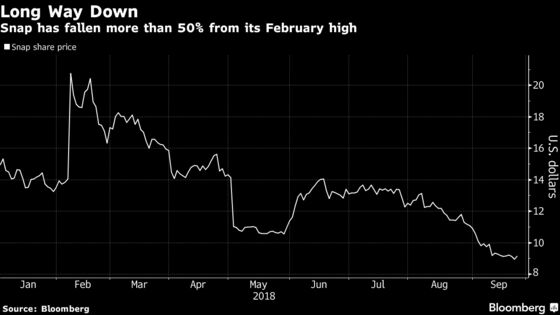 Daily active users of Snapchat fell for the first time during the quarter ended in June. Meanwhile, Instagram's growth has been a bright spot for Facebook, especially in the wake of scandals over data privacy, fake news and election interference.
Snap may also be getting a boost from a Los Angeles Times article that suggests that the company's new image-based shopping agreement with Amazon.com Inc. could lead to a deeper relationship, or even a potential sale, down the road.