Snap Bear Says the Worst May Be Over After Redesign Disaster 
(Bloomberg) -- Snap Inc. is doing much better today than it was around this time last year, at least by the account of this old bear.
"The worst for Snapchat may be over," writes Eric Ross, chief investment strategist at Cascend Securities, in a note. "But that doesn't mean the stock is a buy," advises Ross, who simultaneously upgraded the stock to a hold from a sell rating.
The social media app's Android ratings "have snapped back to positive," Ross said, a signal that its redesign nightmares appear to be over. Shares of the company climbed more than 5 percent on Friday to their highest level since November.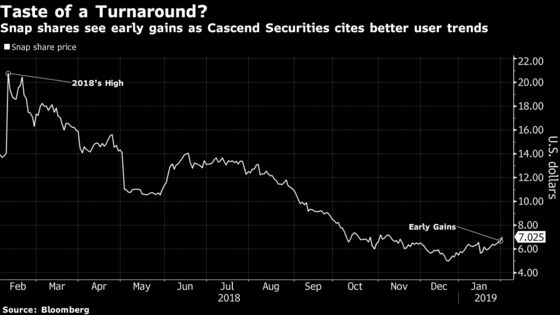 Snapchat had a tough 2018, wrestling with the backlash from an unpalatable redesign and the emerging popularity of Instagram's Stories feature, both of which spurred a sharp drop-off in downloads and user engagement. Snap's stock has fallen over 60 percent since last-year's high on Feb. 7.
But Ross believes new users are coming back -- although not as strongly as they have in the past -- as management attempts to attract a slightly-older audience. Still, Snap needs a strategy to bring new, and more engaged users to the platform, Ross said.