SmileDirectClub Shares Advance on May Reopening, Patent Approval
(Bloomberg) -- SmileDirectClub Inc. jumped as much as 26% Tuesday after the teeth-straightening company secured a patent for its retail concept and said it plans to reopen stores beginning next month.
In a statement Tuesday, the company said it received a patent for its SmileShop concept and the process through which it develops plastic aligners for customers, and that the patent would protect its model for 18 years.
Stores will start to reopen in markets including the U.S., U.K. and Ireland in May, the company said, as governments begin to lift restrictions on business put in place to prevent the spread of the coronavirus.
SmileDirect and some other teeth aligner makers have upended traditional orthodontics by selling products directly to consumers, bypassing traditional orthodontist offices. SmileDirect, whose products are available online or through its shops, went public in September at $23 a share and it has struggled to return to that level.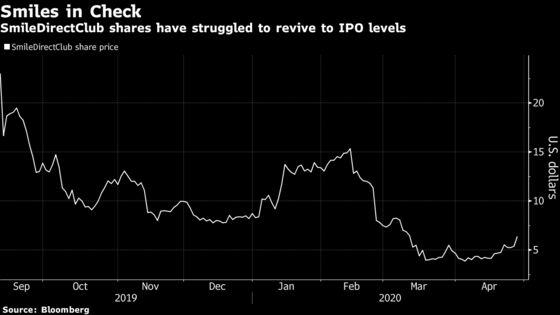 The stock hit a bottom of $3.64 on April 3, and even with Tuesday's surge, is trading at about $6.43. About 57% of float is held by short sellers, according to data from S3 Partners.
SmileDirect shuttered all of its stores, except those in Hong Kong, on March 20 amid the pandemic and said the move would have an unspecified "material impact" on the business. Earlier this month, it said in a filing it had furloughed much of its workforce through May 3.
The reaction on the patent from analysts was mixed.
Laura Champine, director of research at Loop Capital Markets, said skeptics have made the case that it would be easy and relatively cheap for a competitor to establish a rival operation with a retail component. But she said the patent makes that much less likely.
"SmileDirect may be reopening stores soon and may be the only aligner company that can open stores for the next decade plus, and so this has positive near and long-term ramifications for the stock," Champine said.
Jefferies' Brandon Couillard said he found it surprising that a retail shop concept and entire workflow could be patented in the first place.
"I'm not sure how defensible that will be from other competitors who are active in the market," Couillard said in an interview. Pursuing such a patent was "not at all a part of the conversation pre-IPO," though he said he hasn't talked with management about the news.
Management has told Wall Street that the at-home compression kits comprise about 10% to 15% of case volumes with the balance being fulfilled through the SmileShops, Couillard said.