Smartsheet Sinks After Covid-19 Drives Sales Disappointment
(Bloomberg) -- Smartsheet Inc.'s first-quarter results were hamstrung by the Covid-19 pandemic as demand and sales cycles were hurt across a range of its segments and management cut its expectations for the year.
Jefferies analyst Brent Thill said expectations were elevated going into the earnings and that Smartsheet "unfortunately fell victim to a weaker business environment due to Covid-19." Thill said bears will also point to a material accounting weakness and reduced close rates. Smartsheet's stock fell the most on record, sinking 23% at 10:08 a.m. Thursday, after shares closed at a record high on Monday.
Some on the Street, such as Needham analyst Scott Berg, opted to look beyond the first-quarter weakness. "We are aggressive buyers on what we expect will be significant stock weakness as our industry work suggests this decelerating bookings momentum is temporary and will reaccelerate in" the second half of fiscal 2021, he wrote in a note to clients.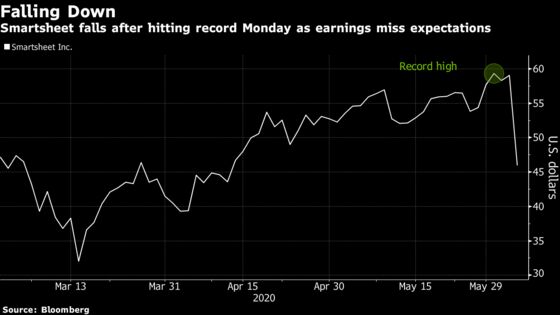 The Bellevue, Washington-based company had snapped back 84% from a March 16 low through Wednesday's close.
"We questioned Smartsheet's sanguine guidance last quarter when most companies would have been given a hall pass due to the pandemic. Unfortunately for Smartsheet it provided forecasts before the true impact of the pandemic was known and couldn't meet the elevated expectations that come along with high multiples."
"That said, the company noted improvements in May (engagements increasing with larger customers) and we don't believe anything is wrong with the go-to-market motion or the product as low cost, high ROI solutions tend to thrive in the long run."
Management commentary that it expects to grow its sales headcount more than it did last year despite macro concerns is evidence that "the pipeline and opportunity remain strong."
Rates hold, cut price target to $50 from $55.
"Covid had a much larger impact on the company's first-quarter sales than our industry work suggested and guidance suggests these headwinds will remain in second-quarter."
"Net Revenue Retention remains best in class at +132% year-over-year and large customer growth remained positive against the disappointing overall results backdrop."
Maintains buy rating, price target to $67 from $60 as the firm rolls its valuation multiple forward to fiscal year 2021 estimate.
William Blair, Arjun Bhatia
Smartsheet saw signs of demand stabilization in May as well as strong pipeline development across all customer segments though "headwinds still exist."
Company is still not back to pre-Covid-19 selling levels though "this is not a problem of demand or changing competitive dynamics" and customer engagement remains high.
"Some investors may be disappointed that the work from home benefit is not coming through, and while near-term uncertainty still exists, we think Smartsheet is ultimately well-positioned to benefit in the collaboration/workflow automation market once the macro backdrop is on more stable ground."
"We believe the company's favorable competition position and large TAM associated with work execution software could drive upside to consensus estimates but realize the potential for Covid-19 to further impact billings/new business."
"We believe recent product developments in areas like accelerators and capabilities-based solutions, content and resource management in marketing use cases, solid sales execution, and the ability to expand significantly within the existing customer base through addressing additional use cases should aid in maintaining much higher growth (30% plus) compared to our broader coverage over the long term."
Maintains buy rating, $50 price target.
Management said that its short sales cycles "translate into a rapid impact on results from a change in the demand environment."
"The company is prudently assuming a headwind from Covid-19 for the remainder of the year."
Maintains neutral rating and raises price target to $45 from $40.