Small Caps Pummeled as Omicron Spread Clouds Growth Outlook
(Bloomberg) -- Small caps skidded Monday, as companies particularly vulnerable to travel restrictions fell further out of favor with investors amid renewed lockdowns in Europe and business closures from the fast-spreading omicron variant. 
The Russell 2000 Index, the benchmark gauge for small cap stocks, slumped as much as 3%, deepening its selloff since November, when the omicron variant was found in South Africa and triggered a global decline. Earlier this month, the Russell 2000 fell into a correction, losing more than 10% from its Nov. 8 record. It now sits 14% below that all-time high, while the S&P 500 large-cap index has lost 3.6% since the variant news.
Small cap companies, which typically have a market value of about $2 billion or less, tend to have less diversified lines of business than their larger peers, making them a riskier bet in times of economic uncertainty, analysts say. A decline in small caps could signal expectations for a slowing economy, investors say, as economically sensitive sectors like energy, financials and industrials make up more of the Russell 2000 than of the benchmark S&P 500.
"Generally, large-cap companies are more able to finance themselves in a downturn than smaller companies through access to more resources in capital markets," Scott Colyer, chief executive at Advisors Asset Management, said in an interview. "But small cap companies typically aren't as reliant on international sales and thus have fewer supply chain problems, so this selling could be due to their valuations and end of the year tax-loss selling."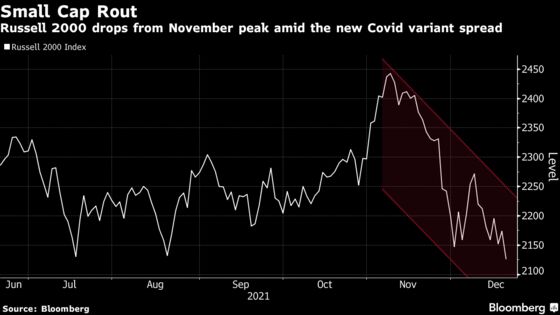 This isn't the first time that there has been a divergence between small caps and their larger counterparts during the coronavirus pandemic.
During the pandemic-fueled selloff in early 2020, the Russell 2000 came under further pressure than the broader S&P 500. Though later that year, promising trials of vaccines raised expectations for a faster-than-expected economic recovery and helped propel a period of leadership in small caps.
Then after underperforming bigger companies for most of this year, small cap stocks briefly outpaced shares of larger companies in early November as concerns about prolonged inflation prompted investors to bet on businesses they hoped could respond quickly by raising their own prices.
"Let's get past the first of the year to see how much of this underperformance in small caps is tied to tax-loss harvesting," Colyer added. "Right now, there's more of a fear about whether there could be a global shutdown based upon the omicron strain, which is being reflected in the markets this week."