Small Caps Erase Gains for Year as America First Trade Sours
(Bloomberg) -- The so-called America First trade has unwound, with small-cap stocks erasing gains for the year after entering a correction.
Long considered the primary beneficiaries of President Donald Trump's pledge to favor U.S. businesses, small caps have fallen hardest since summer. The Russell 2000 has dropped more than 13 percent from its peak in late August -- beyond the 10 percent threshold that defines a correction -- erasing all its gains for the year.
The gauge's relative outperformance versus the megacaps of the S&P 500 Index since the 2016 presidential election is now just a memory.
The Russell 2000 Index declined 1.5 percent as of 11:31 a.m. in New York, its 13th loss in 17 days.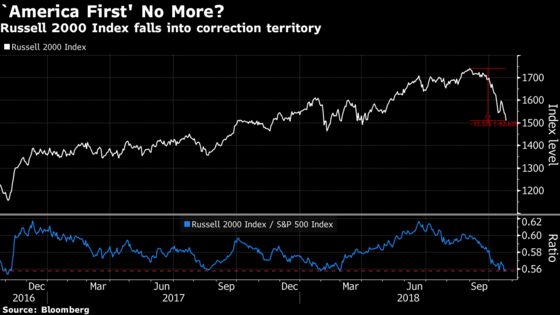 The plunge is an about-face from what was once one of the year's favorite trades. Lingering tariff tensions and a stronger dollar, alongside a fiscal stimulus boost, made smaller stocks seem like safe haven. But as interest rates rise, new concerns surrounding those companies have arisen.
"Companies in small caps will probably be the ones that have the most to suffer," Omar Aguilar, chief investment officer for equities at Charles Schwab Investment Management, said by phone. "People are already speculating that if this is indeed the beginning of the last part of bull market cycle, small caps will have a harder time performing in a rising interest-rate environment where credit is more difficult to get."
For years investors have argued that persistently low interest rates have fostered the proliferation of unprofitable companies. About one-third of Russell 2000 members made no money in the past 12 months, the highest proportion in eight years.
So as dollar funding costs surge, smaller firms, which tend to have an outsize portion of floating-rate debt relative to multinational peers, are taking a hit. Bearish signals from the sector's weak run of late are hard to miss.
"Maybe at first the market was pricing the benefits of growth multiples and interest income expansion," David Schawel, chief investment officer at Family Management Corp., tweeted. "Now we're at the point where forward looking for both is negative at the margin."