Slowdown in U.S. Business Investment Was Less Dire Than Thought
(Bloomberg) -- Revised economic data on Wednesday showed that U.S. capital spending slowed significantly in the third quarter, but not as much as in the original eye-popping figures.
Nonresidential business investment grew at a 2.5 percent annualized pace in the July-September period, the Commerce Department said in its second estimate of the quarter's gross domestic product. That's greater than the 0.8 percent figure reported in last month's preliminary figures.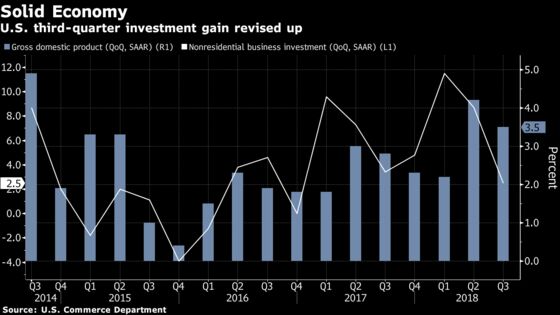 Equipment spending was revised to a 3.5 percent gain from 0.4 percent, while the contraction in structures spending was revised to 1.7 percent from 7.9 percent. It wasn't all good news on the business front: investment in intellectual-property products, such as software, was revised to a 4.3 percent increase from 7.9 percent.
While the nonresidential investment figures still show a cooling from a gangbusters 11.5 percent pace of gains in the first quarter and 8.7 percent in the second quarter, the revisions might allay concerns that capital spending is undergoing a sharper slowdown. Fed Vice Chairman Richard Clarida said Tuesday that "one data point does not make a trend, but an improvement in business investment will be important if the pickup in productivity growth that we have seen in recent quarters is to be sustained."
The broader revisions to GDP amounted to a wash, with the overall pace of growth unrevised at 3.5 percent. That's partly because consumer spending, the biggest part of the economy, was revised to a less-robust 3.6 percent increase from an initially reported 4 percent.